The 6 Best Stock Music Sites of 2021
This article is brought to you by Fiinder.net

If you're a content creator, you know that no video project is complete without music, so today, we're going to explore the best places for filmmakers to find that perfect song.
1. Filmpac

Filmpac started in 2017 as a boutique stock footage company, and they quickly became a standard-bearer in that industry with a potent combination of quality and affordability. So it was no surprise that when they launched their very own stock music library earlier this year, it met (and even exceeded) expectations.

Filmpac's slick interface uses elements from their footage side to make each track stand out. This unique browse layout, coupled with useful filter facets, project folders, and several highly-curated playlists, makes for a smooth user experience and easy navigation of the library. It seems like no matter what you need, the perfect song is never more than a few clicks away.

And the music itself is simply outstanding. While it seems to have a decent representation of all types of useful production music, we feel where the library really shines is with its cinematic material. From emotional, minimalist arrangements to epic blockbuster scores, Filmpac delivers in an area where almost every other stock music library falls short. Another particularly strong area of the library is Filmpac's pop playlist.

At $149/yr for an unlimited music membership (with a simple, comprehensive license), Filmpac offers the best combination of quality, depth, and price currently available on the market.
2. Artlist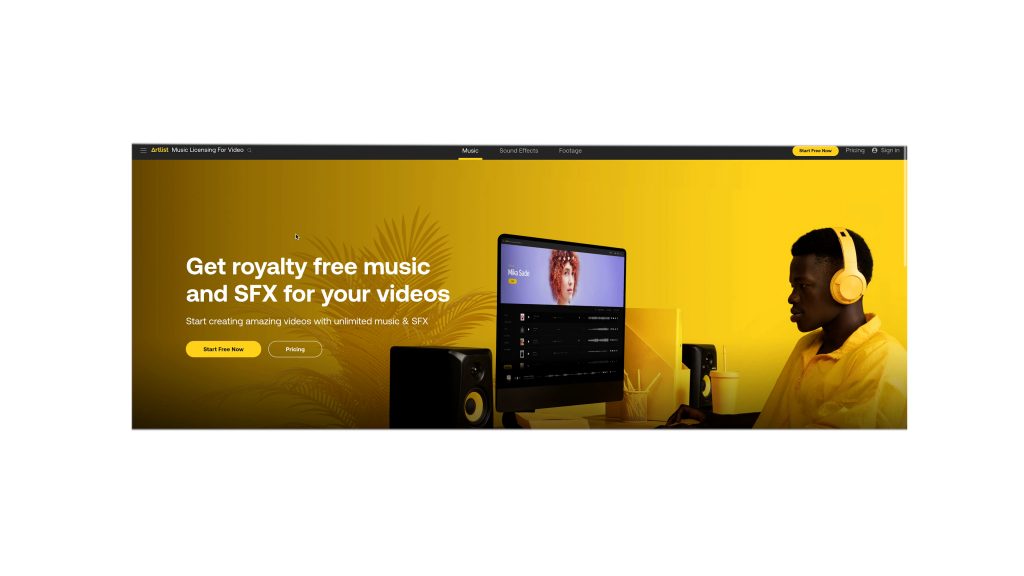 Founded in 2016, Artlist changed the game forever when it comes to affordable, quality stock music. It was arguably the first subscription-based music library that was accessible to the average content creator, and Artlist has been aggressively expanding ever since with acquisitions and with its sister company, Artgrid.

Artlist now has a much-improved website layout and design, allowing for quick searches and a simple download process. The curated collections are an easy way to get inspired, and it's easy to navigate the browse page with icons for favorited, new, and even previously-downloaded songs.

Artlist's library is massive, and includes some really great music, but I've found that it can take a bit of time to sort through some less-useful tracks to find what you're looking for. But the fact that Artlist has music from artists around the globe means that no matter what you're looking for, you're bound to find it here. It just might take some digging.

At $199/yr ($299/yr with SFX), Artlist is a bit more pricey than Filmpac, but nevertheless a great value for the filmmaker who needs a huge library and doesn't mind spending some extra time browsing.
3. Musicbed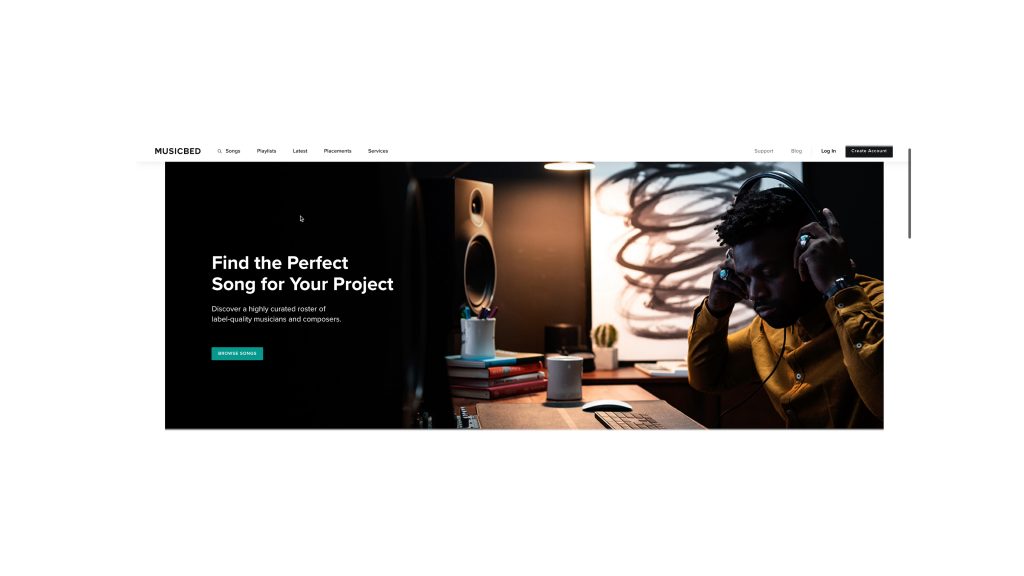 Since its creation over a decade ago, Musicbed has been considered the gold-standard for stock music, particularly within the big-budget advertising world. It started as a strictly a la carte library, but has since added several membership options with varying usage restrictions and pricing. Filmsupply, Musicbed's sister company, offers high-quality stock footage as well.

Musicbed has a beautiful yet intuitive website, with several playlists organized by genre, vibe, and even personal curation by prominent filmmakers. I have noticed that the site can be a bit slow at times, but it's usually only a minor inconvenience when browsing and listening. There are plenty of search filters to choose from as well.

As I mentioned before, Musicbed is considered the highest-quality library on the market. With an extremely-curated library sourced from some of the music world's biggest names, it seems like every song you listen to is a hit. From movie-quality scores to radio-ready anthems, there's no doubting the library's commitment to excellence.

However, that high-quality comes at a very steep cost. The only reason why Musicbed isn't at #1 on this list is the price: if you want to do any sort of commercial work, you'll have to pay $1,079/yr. And further, if you have a large end client or broadcast distribution in mind, you'll need to negotiate a custom license fee for an extremely high price, sometimes above $10,000. And one last big difference between Musicbed and the other sites on this list: this is a rights-managed library, not a royalty-free library, so you'll need to pay special attention to how you're allowed to use each track.
4. Soundstripe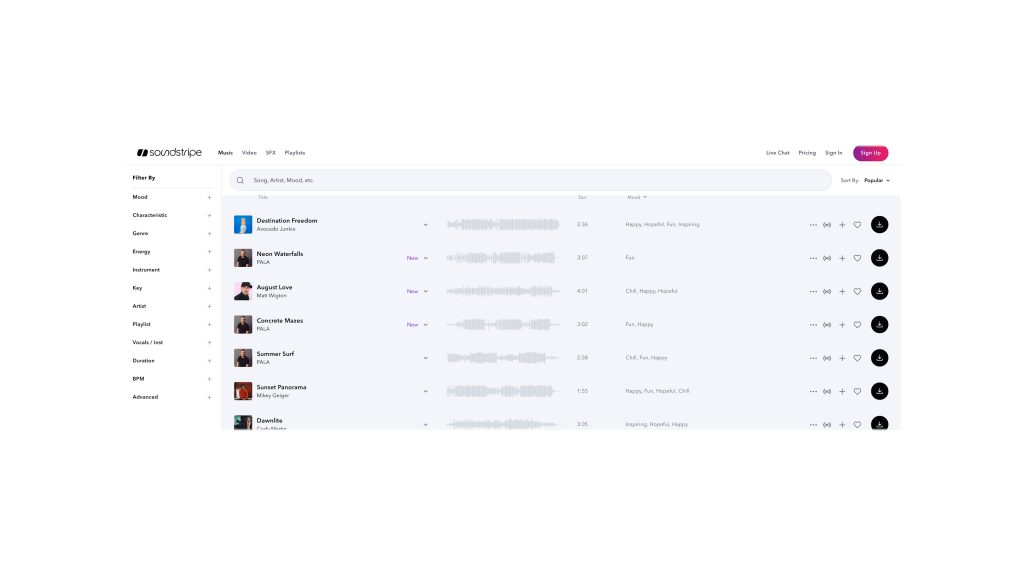 5 years ago, Soundstripe was a small Nashville-based startup with a vision to connect filmmakers and musicians through stock music. It has since become one of the fastest-growing media companies out there, and has expanded into the stock footage industry as well. Soundstripe also produces all of their music in-house, and they own their entire catalog outright.

Soundstripe's interface is clean and simple, with tons of great playlists, search features, and a unique "similar song" function that makes finding lots of music within the same style extremely easy. The number of filter options can be a bit overwhelming, but it never seems to take too long to find what I'm looking for.

Most stock music libraries seem to have a niche when it comes to content, and to me, it seems that Soundstripe's specialty lies in generic, highly-usable, and unobtrusive music tracks, perfect for social media and vlogging applications. Lots of the music tends to sound the same, which can either be a good or bad thing depending on the types of content you produce on a daily basis.
At $149/yr ($245/yr with SFX and $399/yr with video), Soundstripe ties with Filmpac for the most affordable membership option, and the subscription is well worth it.
5. Epidemic Sound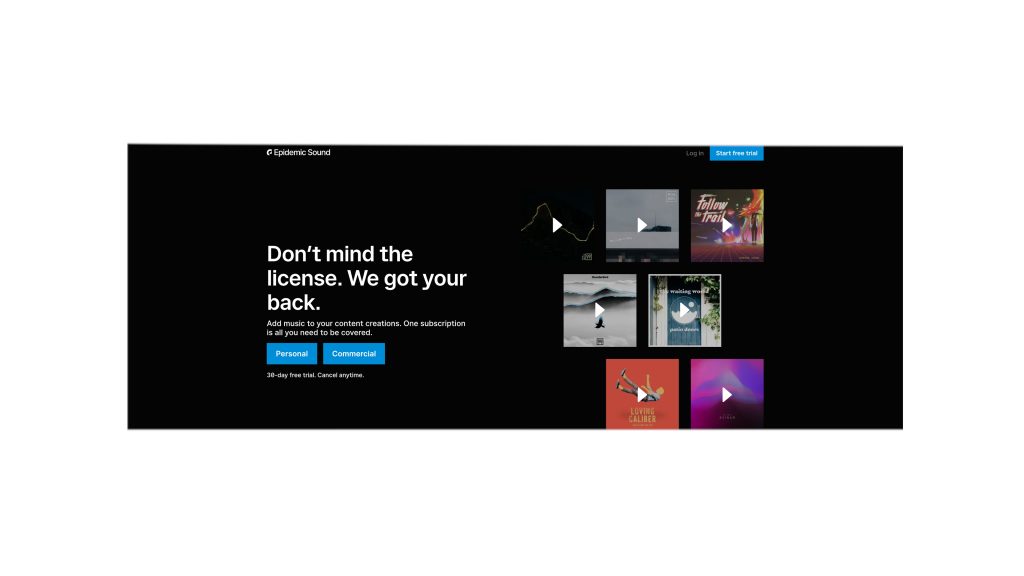 One of the biggest companies on this list, Epidemic Sound has offices in 6 cities across the globe. Similar to Soundstripe, they own their entire catalog, although the company has faced recent criticism over it's policy of not allowing its artists to have PRO affiliations.

Epidemic Sound has a huge library, but it's user experience can feel clunky and just a bit outdated. But once you get used to the layout, it's not too bad. Like Soundstripe, it's similar track function can be very useful.

In terms of content, Epidemic Sound seems to have a bit of everything, which can be both a blessing and a curse. No matter what type of music you need, you're bound to find it here, but much like Artlist, you might be spending a significant amount of time searching for it. I've also found that you'll be wading through quite a few tracks that just don't seem very useful, unless it's for a very specific type of project. But if you're willing to put in the extra time, there are plenty of hidden gems here.

At $299/yr for a commercial membership, Epidemic Sound is on the more expensive side, but still affordable for most freelancers and small production houses.
6. PremiumBeat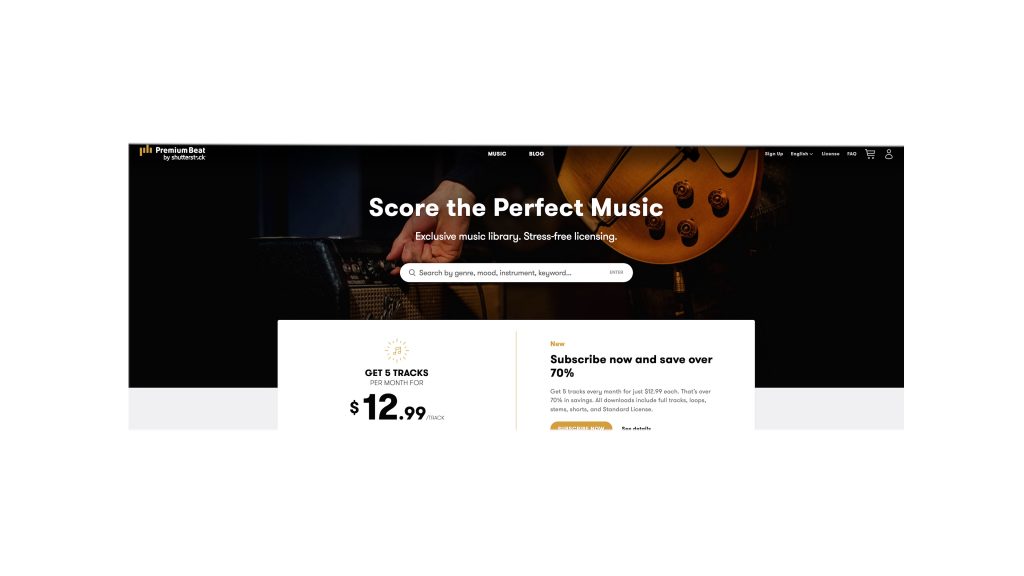 The oldest library on this list, PremiumBeat is also perhaps the best-known. A staple of the industry for over 15 years, and now owned by Shutterstock, Premiumbeat has a massive collection of music available for licensing.

A simple, straightforward website design allows you to navigate PremiumBeat's library relatively easily. Their collections aren't as strong as some of the other sites on this list, but their search filters are always on-point. Also, they have some handy keyboard shortcuts built into their browsing experience to speed things up.

PremiumBeat is by far the most "stock-y" sounding library on this list. Much like Soundstripe, their content seems to be geared towards the social media/vlog/low budget advertising market. Again, this isn't necessarily bad, but it's definitely a limitation if you're producing a wide variety of types of videos.

PremiumBeat's pricing model is why they find themselves at the end of this list. The only membership offered is for $779/yr, and you can only download 5 songs per month. PremiumBeat has historically been an a la carte platform, with personal and commercial licenses available for $49 and $199, respectively.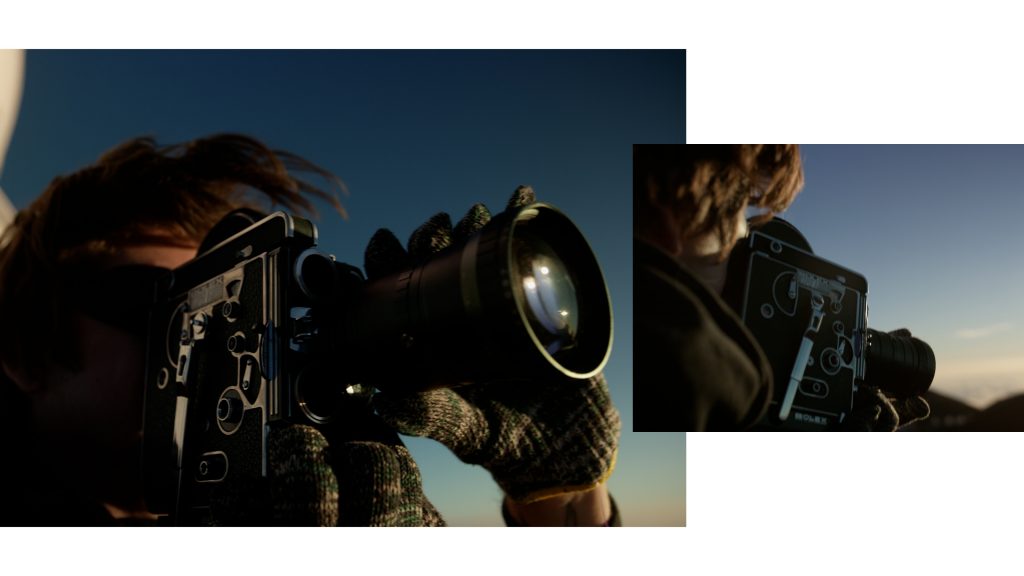 Summary
So, there you have it. Those are the best 6 stock music sites for 2021, with Filmpac being our overall top choice.

But again, this is 2021. There are tons of options and there's no right or wrong answer. We hope that depending on your own unique needs as a content creator, you'll be able to use this guide as a valuable resource to help you find the perfect place to get your stock music.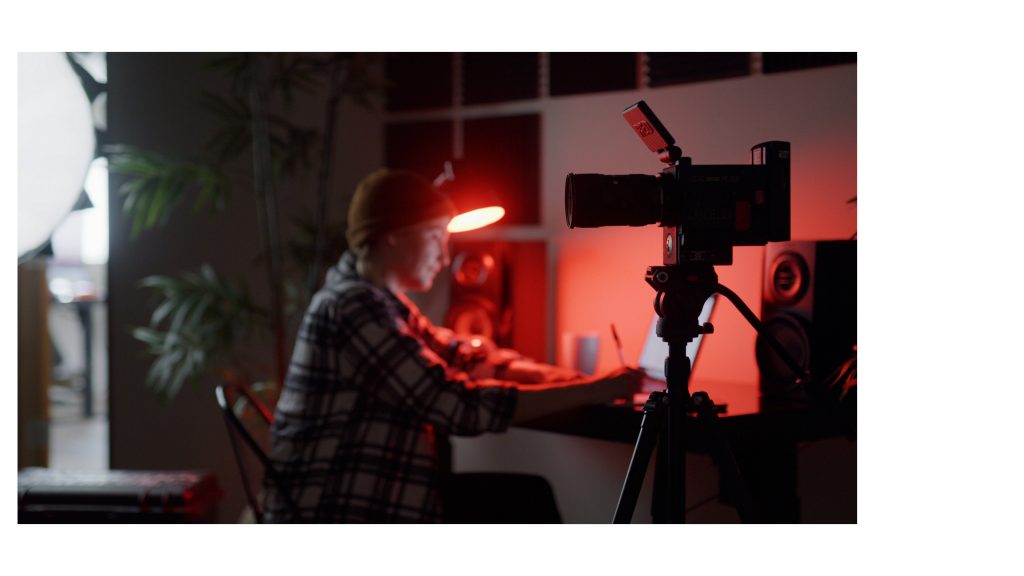 This article is brought to you by Fiinder.net, where you can find the people, places, and products for your next production.