The 5 Best Drones of 2023
By Kevin Graham

Drones (sometimes also known as quadcopters) are arguably the most influential and fastest-evolving category of filmmaking equipment to hit the market in the last decade. With photo and video applications from real estate to high-end film production, drones have made their way into the kits of the majority of creators, giving them an aerial 4k camera for their productions.
Whether you're a seasoned pro or a beginner, there are lots of options out there. We've put together this list of our 5 favorites to help you find the perfect drone for your needs.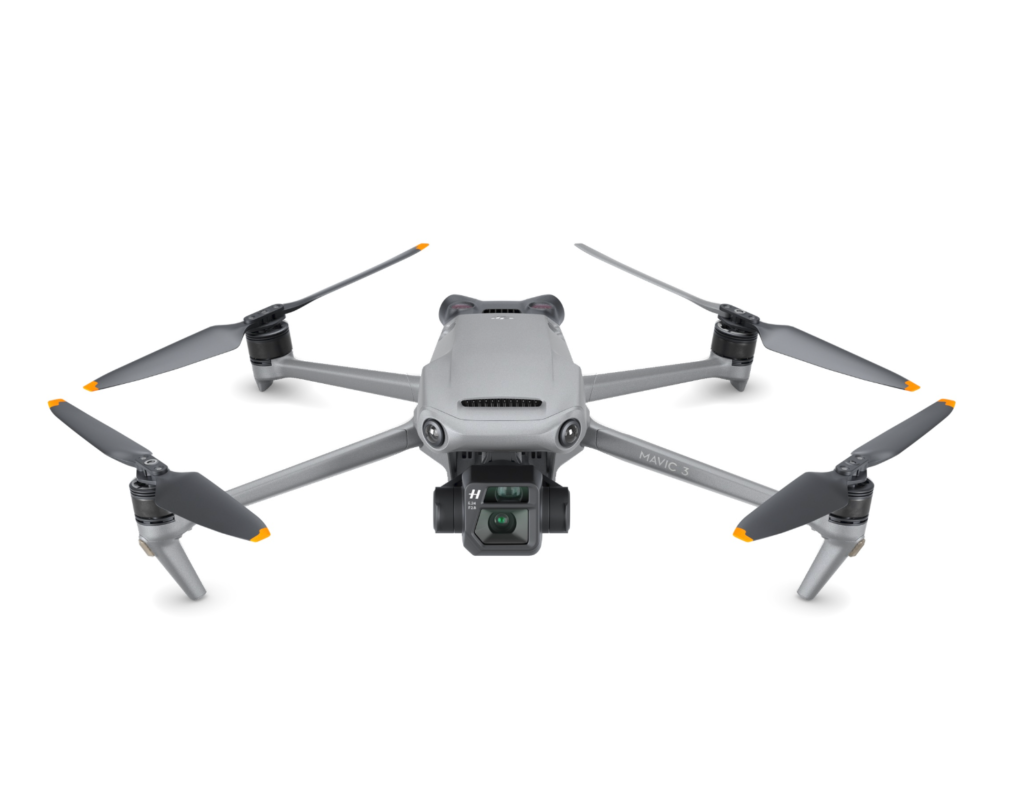 4/3 CMOS Hasselblad Camera
46 Minutes of Flight Time
5.1k Apple ProRes
Omnidirectional Obstacle Sensing
15km Max Transmission Range
Advanced Return to Home
Pros:
Compact
Very high image quality
Long battery life
Cons:
More expensive
Heavier than other compact drones
When it comes to drones for videographers, there's one company that has essentially cornered the market: DJI. And the Mavic 3 is perhaps the company's most versatile and well-balanced DJI drone offering yet.
Featuring a 20 megapixel 4/3 CMOS Hasselblad Camera and gimbal (DJI and Hassleblad formed a strategic partnership in 2015), the Mavic 3 delivers the best cinematic image quality of any compact drone on the market. We've even found the 5.1k Apple ProRes footage to cut well with a variety of bigger cinema cameras. The built-in HDR mode is extremely useful as well.
The 46 hours of battery life is the best we've encountered, and the drones 3 axis gimbal stability and advanced safety features (such as activetrack and a Return to Home function and obstacle avoidance) make it an easier learning curve for new pilots.
While the Mavic 3 is much heavier than most other compact drones, it does still fold donw to 8.7 x 3.8 x 3.6 inches, more than small enough to fit in a backpack or camera bag.
The Mavic 3 sits at the top of our list because it provides the best value for the price tag; with this drone, you'd be set up for almost any type of high-quality photo or video work you can think of, with more minutes of flight time than the competitors.

The Mavic 2 Pro also gets an honorable mention here.
#2 – DJI Mini 2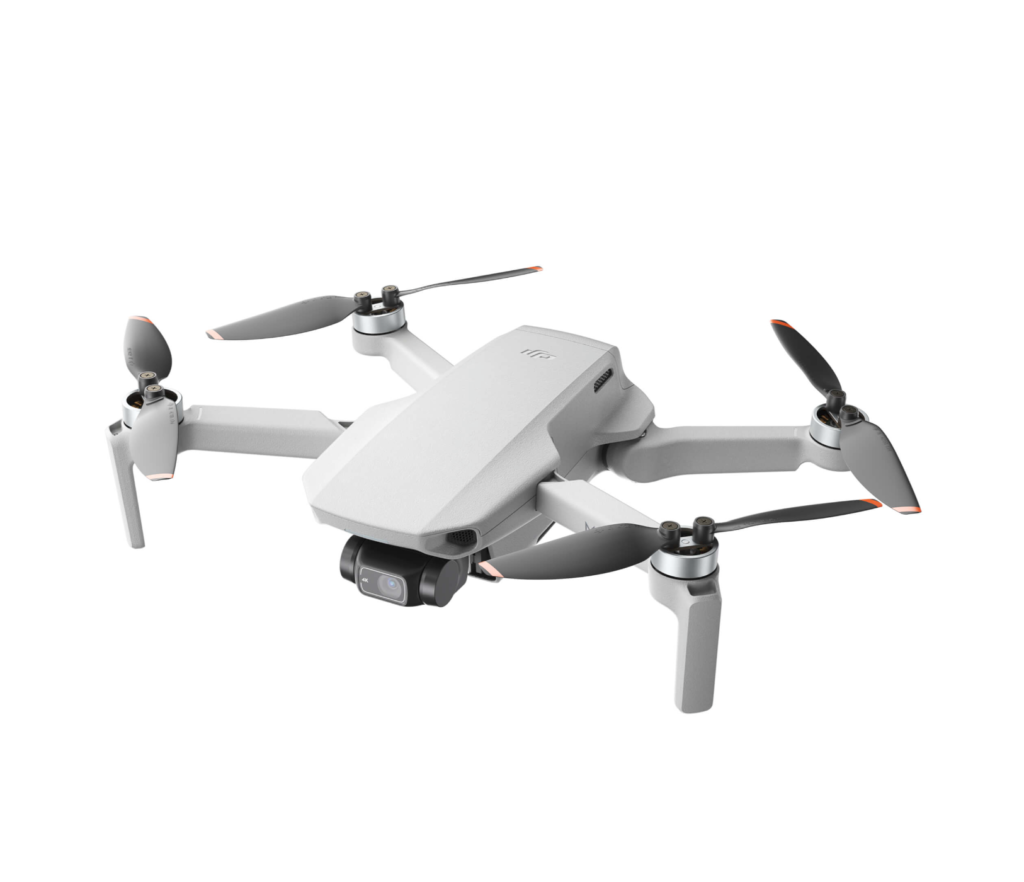 <249g
4K/30fps Video
10km 720p Video Transmission
Level 5 Wind Resistance
4x Digital Zoom
QuickTransfer
Pros:
Most affordable drone on this list
Lightweight and compact
4K Video
Cons:
Average image quality
No obstacle sensing
This is the "budget" drone on our list, but it performs like anything but that. Capable of 4K video at 30fps, the 12 megapixel camera more than holds its own. Its footage doesn't have quite the dynamic range and clarity that some of the more expensive drones offer, and it has limited flight modes, but it's still a workhorse for professionals and hobbyists alike, and is one of the best cameras for aerial photography purposes.
Weighing in at under half a pound and packing down to literally fit in your pocket (it's foldable), this is the lightest and most compact drone on our list. It has a maximum range of over 6 miles (although flying beyond your line of sight is illegal), and it is very stable in windy environments for a small drone.
The DJI Mini 2 doesn't have the same obstacle sensing capabilities as its pricier brethren, but it does have access to most intelligent flight features such as Return to Home and auto takeoff and landing.
The Mini 2 is the best entry-level drone on this list, and for the sub-$500 price tag, it's a very valuable investment.
DJI Air 2S and DJI Mini 3 Pro are other popular, similar camera drone choices.
#3 – DJI Inspire 2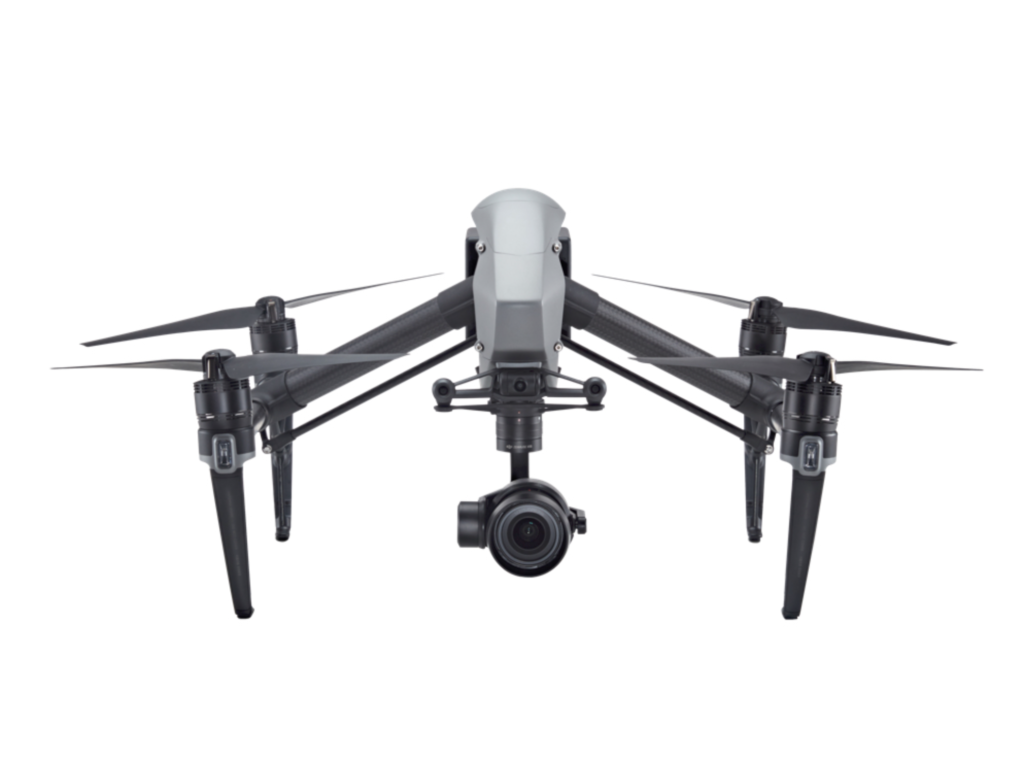 MSRP – $5,299 (for the Standard Kit)
6K Video Resolution
CinemaDNG and ProRes
Advanced Obstacle Sensing
58mph Top Speed
60fps at 4K
CineCore 2.0 Image Processing
Pros:
Unmatched Cinematic Image Quality
Ability To Change Lenses
Intelligent Flight Modes
Cons:
Most expensive drone on this list
Large and heavy
The DJI Inspire 2 is the most expensive drone on this list, but for good reason; this is a true filmmaking powerhouse.
Capable of up to 6K video (4K at 60fps) and Apple ProRes and CinemaDNG files, this setup will cut seamlessly with anything else you can throw at it. The image quality from the Inspire 2 is among the best we've encountered from a drone.

The drone itself doesn't have a built-in camera, but you can buy bundles that include both the camera and various lenses. The ability to change out lenses is a big advantage as well.
The Inspire 2 has a dual battery system, which offers redundancy in case of a battery failure. It also boasts a respectable 27 minutes of continuous flight time, and has all of the advanced flight intelligence features that DJI has to offer.
It won't fit in your pocket like some of the more compact drones, but it's still easy to transport in a case or large backpack.
It may be more firepower than you need, but if you're looking for cinema-quality aerial footage, then this is the drone for you.
#4 – Autel Robotics Evo Lite+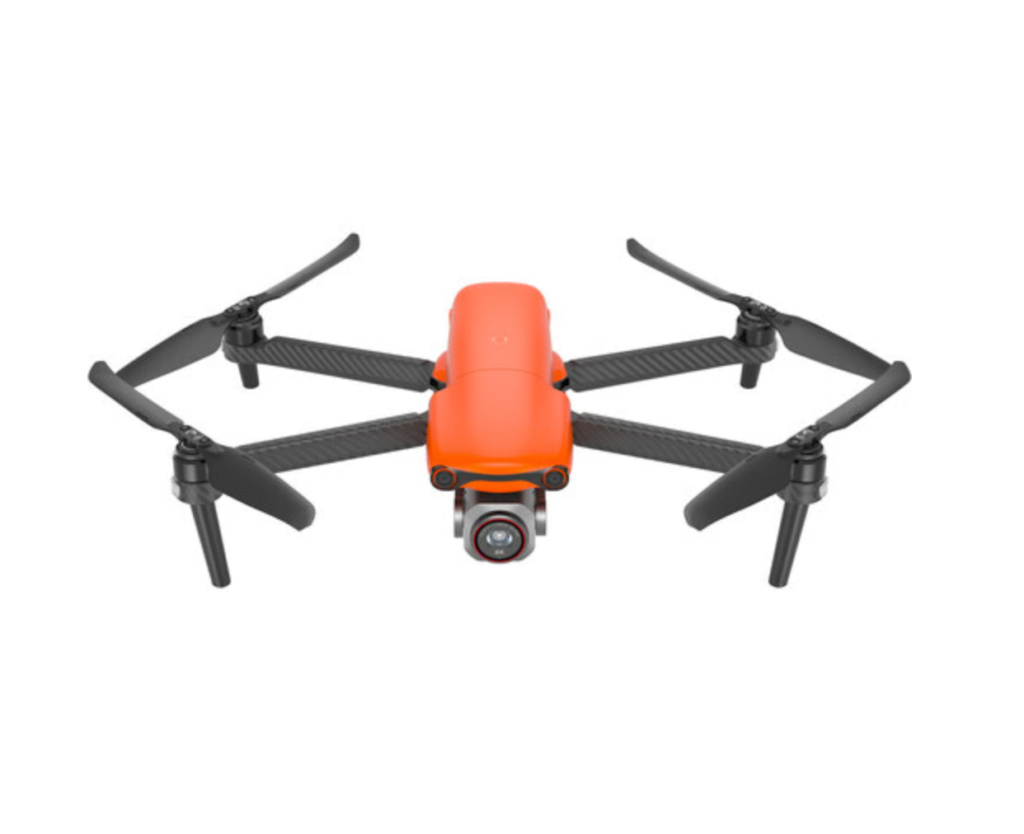 6K 30fps Video
20 Megapixel Stills
40 Minute Battery Life
Adjustable f2.8 to f11 Aperture
Pros:
Long battery life
Great low-light performance
6K video
Cons:
Minimal obstacle avoidance
No geofencing
In a world dominated by DJI, Autel Robotics makes a very worthwhile alternative option. The Evo Lite+ is the company's best drone to date, and is the best non-DJI offering on the market.
Functionality-wise, it shares many characteristics of its DJI counterparts, aside from the bright orange paint job (which can be very useful depending on the weather). Its 40 minutes of battery life is among the best you'll find, and the images from the 6K 20 megapixel camera are outstanding.
Where this drone does fall a bit short is in some of its intelligent flight capabilities, most notably, the lack of geofencing abilities. It's obstacle avoidance system is also very limited, so you'll definitely need to pay attention to where you're flying.
But one of the strongest attributes of the Evo Lite+ is its low-light capabilities; the 1-inch sensor and adjustable aperture gives this camera a real advantage at dawn, dusk, and even at night.
If DJI is the "iPhone of drone cinematography", then Autel Robotics rightfully takes its place as the Android.
#5 – DJI Avata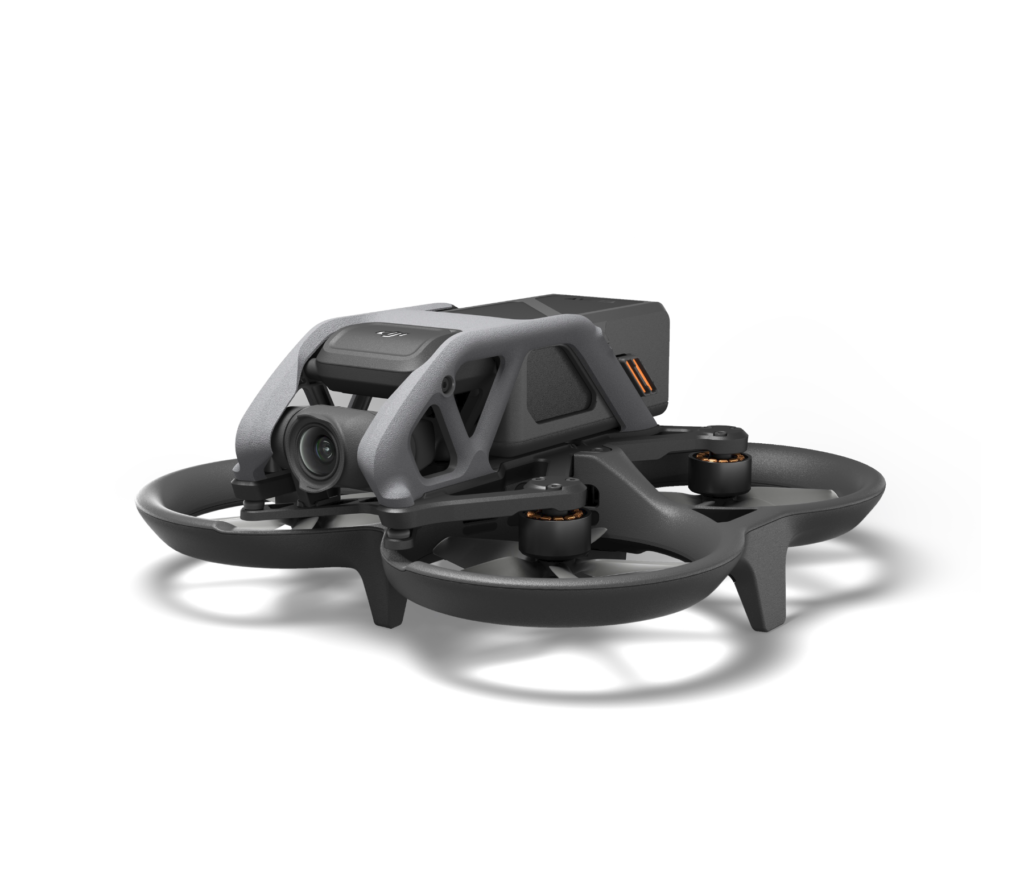 Immersive Flight Experience
Intuitive Motion Control
4K/60fps 155° Super-Wide FOV Videos
Powerful Video Stabilization
Enhanced Safety with Built-in Propeller Guard
1080p/100fps video transmission quality: the lowest latency of 30 ms
Two 1080p Micro-OLED screens
Pros:
Lightweight and portable
Advanced FPV capabilities
4K 60fps video
Cons:
Expensive for a FPV drone
Limited intelligent flight features
The hottest new trend in aerial footage is FPV (first person view), and the DJI Avata is the best all-around FPV drone on the market.
Featuring a super-wide FOV sensor and lens, the Avata can capture 4K video at up to 60fps. It is simple to operate, and features built-in propeller guards for added safety.
A big strength of the Avata is its indoor flight capabilities; many other drones have GPS issues when flown indoors, but that is not the case here. It has lots of manual control, but does have an automatic stop button which will immediately stabilize and stop the drone mid-flight if there is an emergency.
However, there are some intelligent flight features that are missing from the Avata, such as automated flight paths.
This drone's powerful camera, stability, and compact size make it an FPV force to be reckoned with.
From hobbyists to professional filmmakers, there is a drone on this list for everybody, and each of these are just a click away on sites like B&H and Amazon.
Sign up for free to receive more filmmaking resources in your inbox. Or browse our library of cinematic aerial footage for some quick inspiration.