The 5 Best Cinema Cameras Of 2022
By Kevin Graham

If you feel like there's a new cinema camera being released every other week these days, you're not far off! It's been a busy couple of years for new filmmaking cameras, which is both a blessing and a curse.

Of course, it's great to have options. But it's also overwhelming to keep track of, and picking the right camera for your unique needs can be a challenge.

This is why we've analyzed the strengths and weaknesses of tons of new cameras and made a list of our 5 favorites from the past couple years, to help narrow down your search.
#1 – RED KOMODO 6K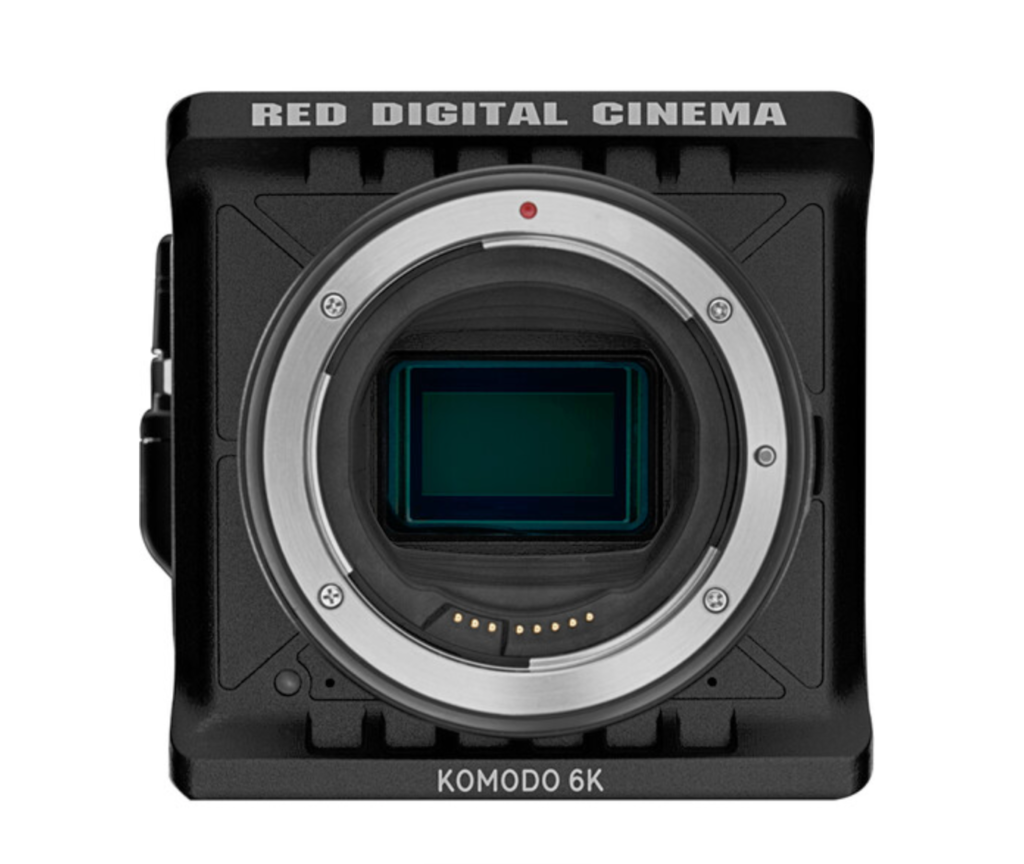 Key Features:
– 19.9MP Super35 Global Shutter CMOS
– Compact, 2.1 lb All-in-One Design
– Canon RF Lens & ARRI CFast 2.0 Support
– 16+ Stops Dynamic Range
– Up to 6K40, 5K48, 4K60 & 2K120 Recording
– REDCODE RAW HQ/MQ/LQ & Apple ProRes
– Integrated 2.9″ 1440 x 1440 Touchscreen
– Wireless Control & Preview via Wi-Fi

Pros:
– compact and light size
– smartphone-compatible
– high-quality REDCODE RAW format

Cons:
– needs additional gear to get up and running
– limited audio integration
– clunky screen placement
RED has often been synonymous with the gold standard of cinema cameras, and for good reason. Unfortunately, this kind of quality also came with a steep, mostly-inaccessible price tag (for the average filmmaker).

Enter, the KOMODO 6K. This camera represents a major breakthrough for the company in terms of both affordability and ease-of-use.

Weighing in at just over 2lbs, the 4"x4" camera body can easily be balanced on a gimbal, or comfortably shouldered all day. It also has a slick smartphone app that makes monitoring and camera control much easier, especially since the built-in touchscreen is in a less-than-ideal spot to access on the camera body. The audio input options are lacking, but this can be fixed with an adaptor. The camera comes with an RF to EF adapter, making it compatible with common EF glass.

This camera will also need more gear to be up and running! At the very least, you'll need some sort of handle, rigging, and an external monitor.
The image quality is outstanding, with 16 stops of dynamic range, global shutter, and RED's legendary raw file structure. It can also record native ProRes, which can be a huge space and time saver. The resolution and frame-rate options are versatile, maxing out at 6K and 120fps at various settings.

In the end, the KOMODO sits at the top of our list because it offers an unrivaled image quality at a previously-unattainable price point.
#2 – Blackmagic Design URSA Mini Pro 12k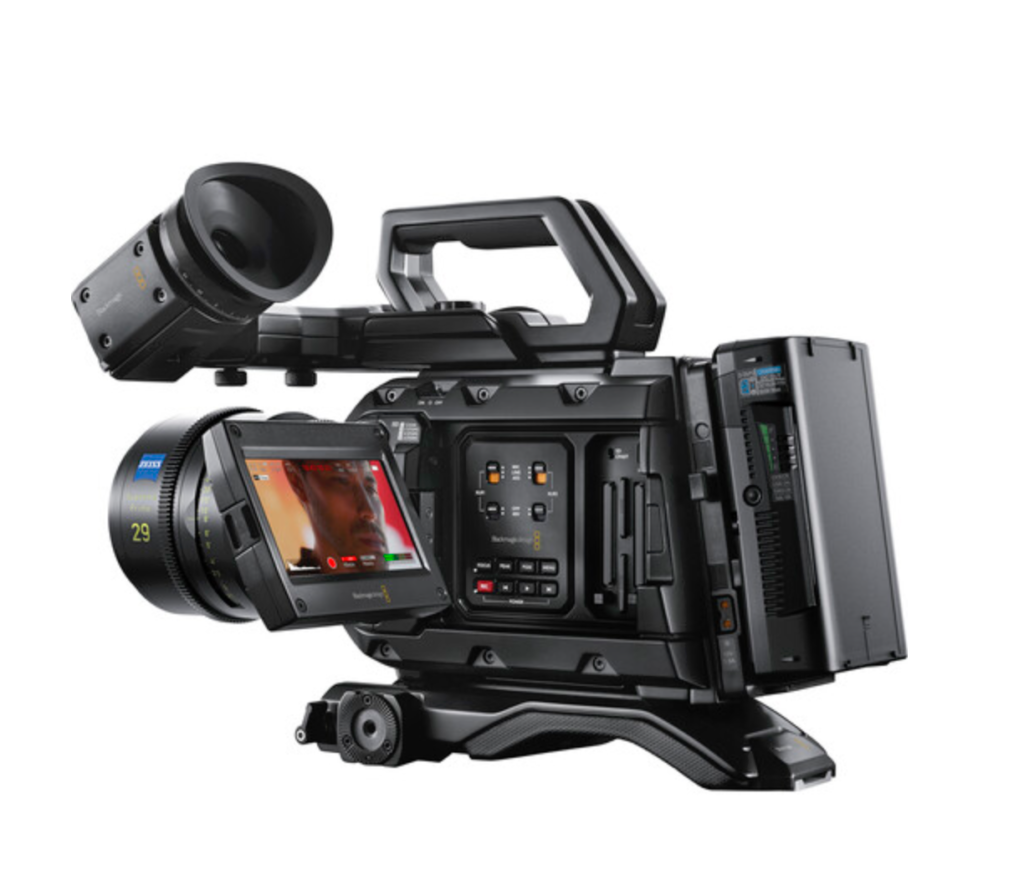 MSRP – $5,995

Key Features:
– 12K Super35 HDR CMOS Sensor
– 12K 17:9 to 60 fps/12K 2.4:1 to 75 fps
– DCI 8K to 120 fps/14 Stops Dynamic Range
– User-Changeable PL Lens Mount
– 4K Super16 up to 220 fps
– 80MP/frame Blackmagic Raw
– Dual CFast 2.0 or SD Card Recording
– USB Type-C Recording to Disk/SSD

Pros:
– unmatched 12k resolution and 220 fps at 4K
– built-In NDs
– beautiful image and color rendition
Cons:
– no ProRes recording
– mediocre battery life at 12k
– heavier body
Ever since the release of their first cinema camera in 2012, Blackmagic Design has been a fixture of the independent filmmaker world, not only with their hardware, but with their industry-defining color and editing software, DaVinci Resolve.

And their latest 2022 release has broken another barrier: the first readily-available 12k cinema camera on the market.

Incorporating great features from previous URSA Mini models such as built-in ND, incredible color science, intuitive ENG functionality, and surprising durability, the URSA Mini Pro 12k goes a step further with a 12k sensor capable of up to 220fps at 4k.
The body weighs in at a sturdy (but manageable) 5.6 lbs, has a built-in 4" touchscreen monitor, and has convenient toggle switches for most basic functions. The audio interface is also pretty robust.
Even though it has a heavier body, with the optional viewfinder and shoulder kit, this camera is probably the most "run-and-gun" friendly option on this list.
Perhaps the biggest flaw of this camera is that there is no native ProRes recording option. BRAW is great, but it can be burdensome if you're on a tight deadline, or if you have limited media and storage space. With certain extreme settings at 12K, a standard 128GB CFast 2.0 card will fill up in seconds! The battery also drains pretty quickly when filming at 12k, but both of these issues can be avoided by filming at a more manageable resolution.

Getting a cinema camera that comes basically ready-to-shoot for under $6k is a dream come true. For both those who have used Blackmagic cameras in the past and those who haven't, this camera will likely exceed your expectations and become a crucial part of your kit.
#3 – Sony FX6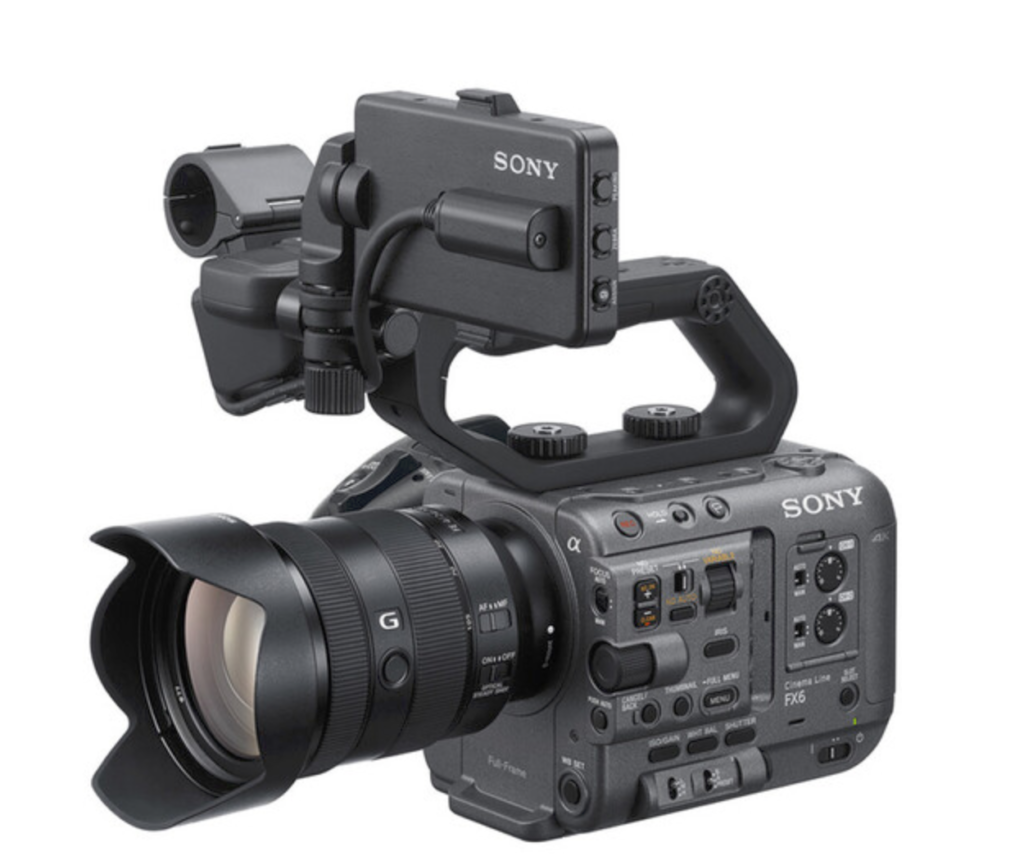 Key Features:
– 4K Full-Frame 10.2MP CMOS Exmor R Sensor
– DCI 4K60p | UHD 4K120 | 1080p240
– 15+ Stops of Dynamic Range in S-Log 3 EI
– Compact Form Weighs Just <2 lb
– Phase Detection AF/Face Tracking/Eye AF
– Base 800-12,800 ISO / 320-409,600 Max
– S-Cinetone, S-Log3, HLG Modes
– 10-Bit 4:2:2 XAVC-I/16-Bit Raw Output
– Dual CFexpress Type A/SDXC Card Slots

Pros:
– built-in ND
– lightweight design
– great low-light capabilities

Cons:
– highest resolution is 4k
– included monitor can be difficult to use
– footage can be difficult to grade
The FX6 is the latest in a line of tried-and-true cinema cameras from Sony. This powerful, lightweight, versatile camera can be used in a variety of settings, and despite the limitation of only 4k, it deserves to be on the radar of every independent filmmaker.

The compact box design can be easily mounted on gimbals and drones, and the familiar Sony form-factor stays comfortable to operate even on long shoots. The included monitor leaves a bit to be desired in terms of size and brightness, but the camera can easily be fitted with an EVF or third party screen. And weighing in at 2lbs, you won't get tired of carrying it around anytime soon.

The FX6 has 15 stops of dynamic range, and Sony's S-Cinetone gamma results in great color quality and skin tones, even if it is a bit tricky to grade at first.
Typical of Sony cameras, the low-light functionality of the FX6 is incredible, making it a great choice for dark and naturally-lit scenes and shoots. It even has built-in ND.

The highest-possible resolution is only 4k, which is a limitation, but if you don't need to do a lot of cropping or resizing, it's not an issue.

In my opinion, the FX6 provides the best value of any Sony camera to date, and would be at home in virtually any type of video production.
#4 – Canon EOS C300 Mark III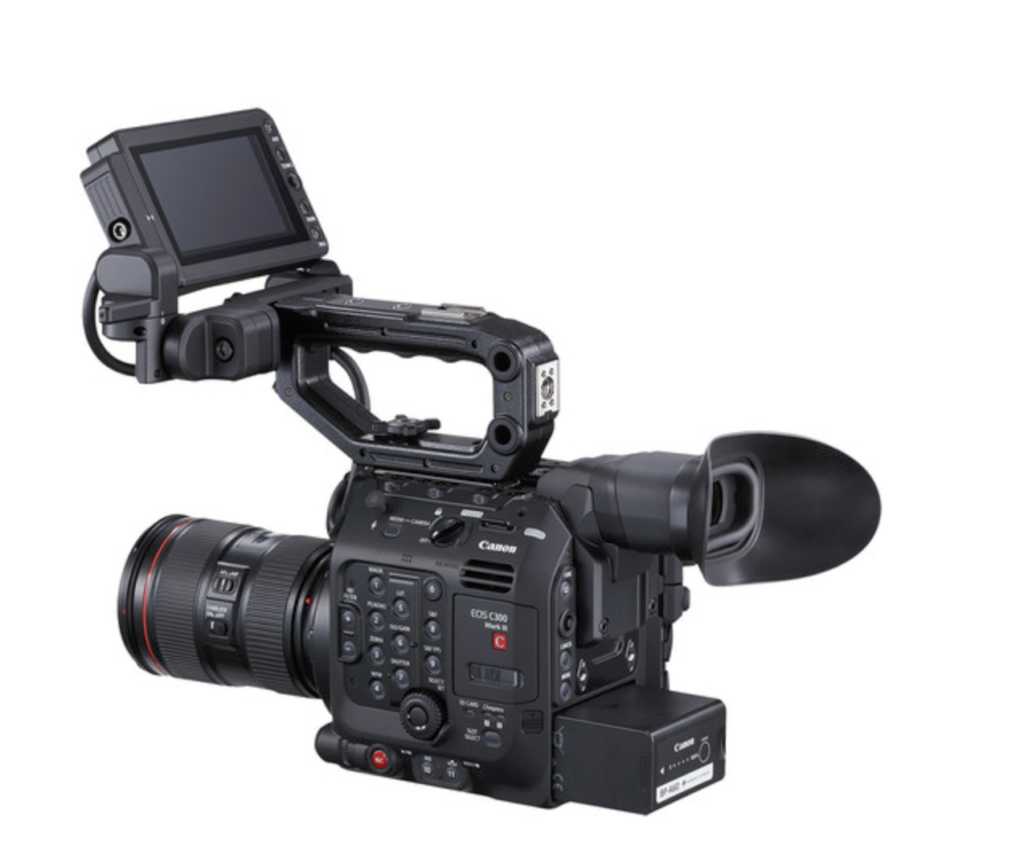 Key Features:
– Super 35mm Dual Gain Output (DGO) Sensor
– 4K 120p, 2K Crop 180p HDR
– Cinema RAW Light and XF-AVC H.264 Codec
– EF Lens Mount, DIG!C DV7 Image Processor
– Dual Pixel CMOS AF and Face Detection
– LM-V2 4.3″ LCD Touchscreen Monitor
– 12G-SDI and 4-Channel Audio Recording
– 2 x CFexpress Slots, Canon Log2 and 3
– Electronic Image Stabilization
– Proxy Recording, Anamorphic Lens Support
Pros:
– great colors
– versatile file formats
– intuitive menus

Cons:
– expensive price
– limited outputs
When the Canon C300 Mark III was released as a follow-up to the Mark II, it represented an immediate upgrade and addressed many of the pitfalls of its predecessor.

Ergonomically, it's still the same familiar C300, with a 3.7lb body and simple design. But where it really shines is under the hood.

The color science is extremely accurate, even drawing comparisons to the way that the ARRI Alexa renders its colors. The new dual-output sensor offers 16 stops of dynamic range. Recording-wise, both RAW and h.264 options are available. And the ability to record 120fps at 4K is a big step forward from previous C300 cameras.
While the image stabilization can be useful, it sometimes create an unnatural-looking image when engaged (similar to a poorly-stabilized clip with Warp Stabilizer). Another drawback is that unlike previous versions of the camera, any external recording has to be done at the camera's internal recording settings, which can be a limitation.

But this is the best C300 to-date, by far. If you're looking for a Netflix-approved camera that will get the job done for years, the C300 Mark III is a great choice.
#5 – Panasonic Lumix BS1H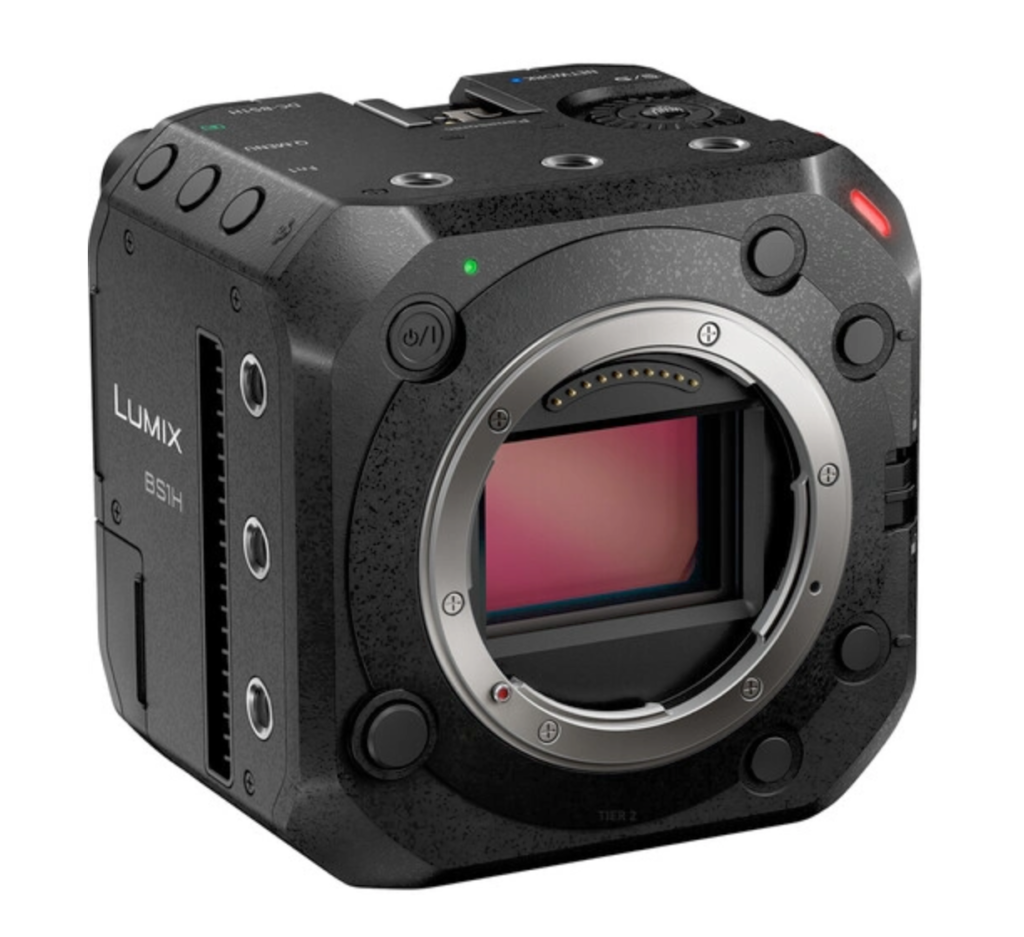 Key Features:
– 24.2MP Full-Frame MOS Sensor
– Up to 5.9K H.264/H.265/HEVC Recording
– 14+ Stops of Dynamic Range, HLG Imaging
– Dual-Native ISO, VariCam Look & V-Log L
– VFR up to 60 in 4K, up to 180 fps in FHD
– Ethernet with PoE+, VBR Battery Mount
– Anamorphic Video & 3D LUT Support
– Durable Magnesium & Aluminum Body
– 12 VDC Power Adapter Included
Pros:
– low price
– small, lightweight design
– modular and easy to customize

Cons:
– needs additional gear to get up and running
– L-mount is more limited than EF
– color depth and frame rates

Panasonic's newest addition to its Lumix family is the BS1H, an affordable-yet-powerful box camera. The full-frame sensor is packed into a body that weighs just 1.3lbs, making this the smallest and lightest camera on this list. And while you'll need some additional gear to get started, it's also the cheapest camera here, by far.
The 14 stops of dynamic range are accurate, and the 50+ recording format options allow for a variety of workflows. 6k is more than most filmmakers will need, but the 4:2:0 color sampling of the sensor is slightly below what you'd expect from some other cameras on this list. It also doesn't have quite the off-speed capabilities of its more expensive counterparts.

But if you're looking to enter the world of cinema cameras and you're on a tight budget, the BS1H is a great choice.
Every camera on this list will shine in the right environment. Hopefully, you can use the pros and cons of this list to help you determine what will work best for you!
Kevin is the Music Director and Lead Composer at Filmpac.