5 Best DSLRs And Mirrorless Cameras
By Kevin Graham

The small, handheld design of today's DSLRs and mirrorless cameras make them a popular choice for both photographers and indie filmmakers. They're easy to travel with, easy to shoot with, and are generally much less expensive and complicated than their cinema camera counterparts.

But with so many options available, how do you choose the best camera for you? In this article, we highlight our favorite DSLRs and small-bodied mirrorless cameras for filmmaking.

We're combining both DSLRs and small mirrorless cameras in this list, due to their similar form factor and operation.
#1 – Sony A7S III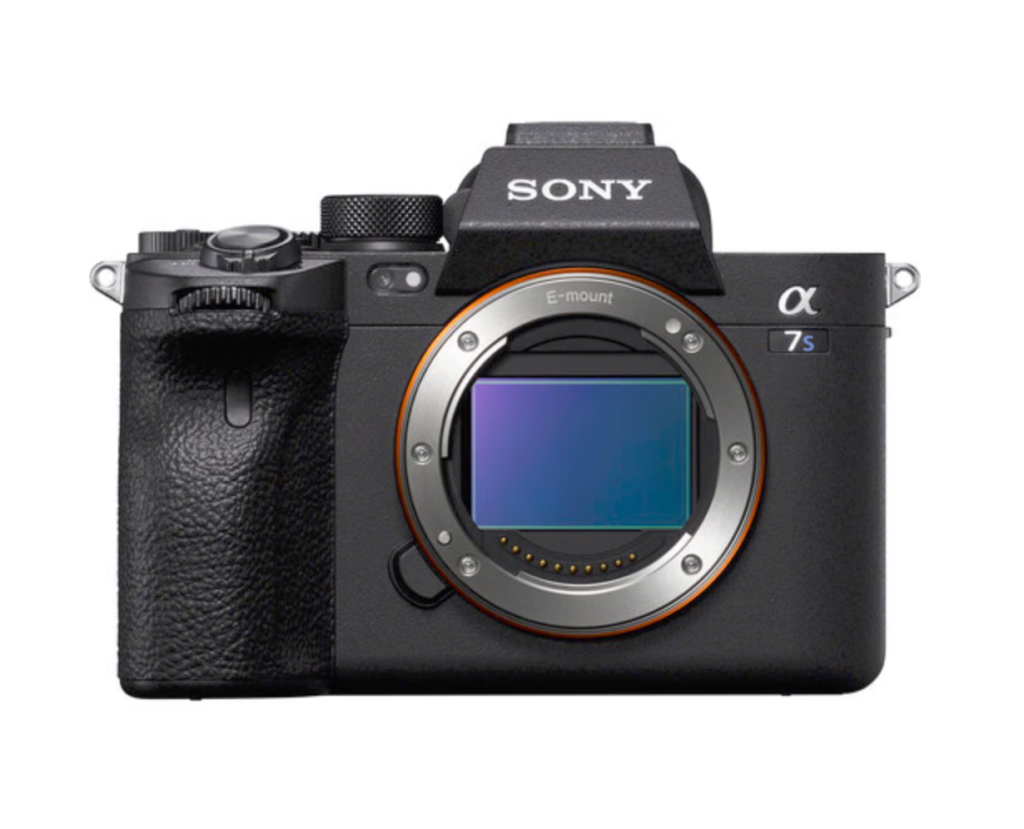 MSRP – $3,498
Best Lens Pairing – Zeiss Planar T FE 50mm f/1.4
Key Features:
– 12MP Full-Frame Exmor R BSI CMOS Sensor
– 16-Bit Raw Output, HLG & S-Cinetone
– 9.44m-Dot QXGA OLED EVF
– 5-Axis SteadyShot Image Stabilization
– Dual CFexpress Type A/SD Card Slots
– UHD 4K 120p Video, 10-Bit 4:2:2 Internal
– 759-Point Fast Hybrid AF
– Extended ISO 40-409600, 10 fps Shooting

Pros:
– unmatched low-light capabilities
– small, compact size
– fully-articulating screen

Cons:
– only 12 megapixels for stills
– limited battery life
Sony's a7S series is arguably the most popular mirrorless camera line out there for filmmaking, and for good reason. And when the third iteration was released in 2020, it represented the best that the company had to offer.

The a7S III is a native 4k workhorse of a camera, shooting up to 120 FPS at 4k and outputting 16-bit RAW. It has a full-frame, uncropped sensor, and improved in-body stabilization. And as with all Sony mirrorless cameras, the low-light functionality blows the competition out of the water, and the classic S-Log image profile offers 15 stops of dynamic range (which equals maximum flexibility when color grading).

The camera is small, light, and easy to use. The improved EVF is crystal-clear, and the articulating screen makes this camera very easy to shoot wiht in a variety of different scenarios.

The main drawback is the fact that this camera doesn't seem to have the battery life that similar models have. Also, the low megapixel value of 12 make this camera slightly less-suited for serious still photography work.

But for filmmaking alone, the a7S III sits alone at the top of our list.
#2 – Canon EOS R5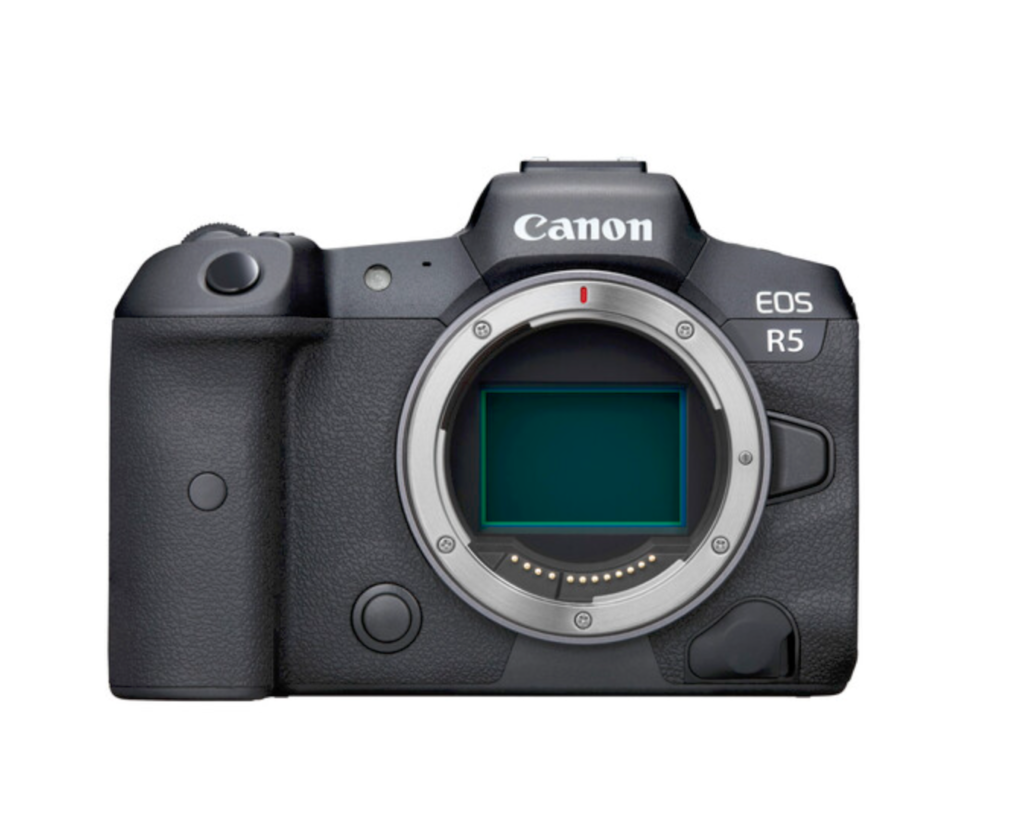 MSRP – $3,899
Best Lens Pairing – Canon RF 24-70mm f/2.9 L IS USM

Key Features:
– 8K30 Raw and 4K120 10-Bit Internal Video
– 45MP Full-Frame CMOS Sensor
– 12 fps Mech. Shutter, 20 fps E. Shutter
– 0.5″ 5.76m-Dot OLED EVF
– DIGIC X Image Processor
– Sensor-Shift 5-Axis Image Stabilization
– Subject Tracking with Deep Learning
– 3.2″ Vari-Angle Touchscreen LCD

Pros:
– Uncropped 8k video
– full-frame AF functionality
– sturdy, ergonomic build
Cons:
– 8k footage requires lots of storage
– most expensive camera on this list
– some overheating issues at 8k
The only camera on this list capable of 8k, the Canon EOS R5 represented a major resolution breakthrough in the DSLR/small mirrorless camera world. The storage adds up at this resolution, but this camera is a powerhouse and has been used alongside large cinema cameras on countless productions.

The high frame rate capability of the R5 is impressive, with 60 fps available at 8k and 120 fps at 4k. The new 45 megapixel sensor and full-frame AF system make this a formidable stills camera for hybrid shooters as well. 15 stops of dynamic range ensure that no details are lost.

The sturdy, ergonomically-pleasing design makes this camera a breeze to film with for long periods of time. And the fact that it's smaller than a cinema camera makes it an ideal choice for drone and gimbal work where 8k is needed.

Besides the aforementioned increased files sizes at 8k, the main drawback of this camera is its price. It's the most expensive camera here, so if you know for a fact that you don't need 8k, you may consider a less expensive alternative. There have also been known overheating issues with 8k filming for long periods of time, but we'd expect this to be resolved relatively quickly via firmware updates.

Getting a full-frame 8k video camera with 45 megapixels for under $4k is a big deal, and it's why the R5 sits so high on our list.
#3 – Nikon D850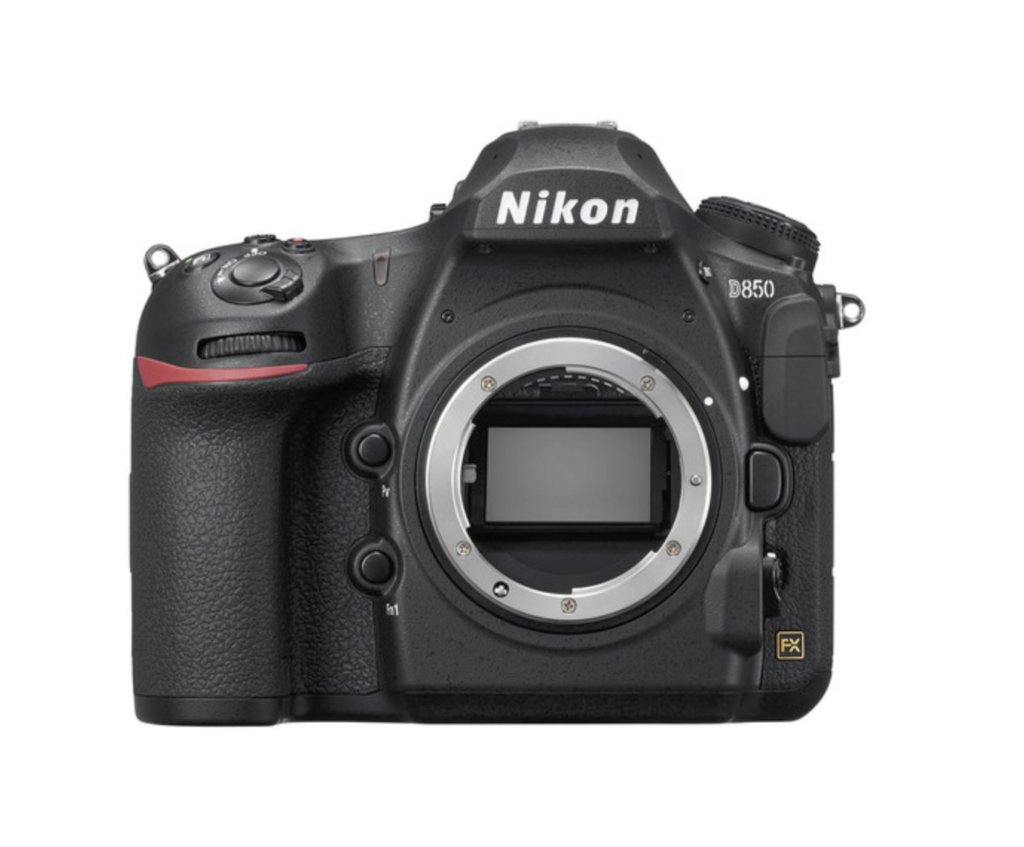 MSRP – $2,797
Best Lens Pairing – Nikon AF-S NIKKOR 24-70mm f/2.8E ED VR
Key Features:
– 45.7MP FX-Format BSI CMOS Sensor
– 3.2″ 2.36m-Dot Tilting Touchscreen LCD
– Multi-CAM 20K 153-Point AF System
– 7 fps Shooting for 51 Frames with AE/AF
– 180k-Pixel RGB Sensor, Focus Shift Mode
– EXPEED 5 Image Processor
– 4K UHD Video Recording at 30 fps
– Native ISO: 64-25600,Extended: 32-102400
– 8K Time-Lapse, Negative Digitizer Mode

Pros:
– high megapixel count
– extremely rugged and durable
– more cheap lens options

Cons:
– slow AF system
– inconsistent bluetooth and Wifi functionality
– no high speed recording at 4k

Following Nikon's revolutionary D800, the D850 is the company's most versatile camera to date. It retains the core characteristics of its predecessor, such as it's rugged durability and high megapixel count, and adds more video-friendly features such as uncropped 4k, focus peaking, and a flatter image profile. This DSLR can truly do it all.

Nikon glass is generally cheaper and easier to find than other brands, giving you more lens options as well. The touchscreen functions are great and make for easy operation on set.
Now for the downsides: the contrast-detect AF is not practical for video, there is no high frame rate recording at 4k, and the Wifi connectivity is often sluggish.

But the experienced shooter can easily work around these bugs, making the D850 one of the best dual-purpose DSLRs on the market.
#4 – Panasonic Lumix GH5 II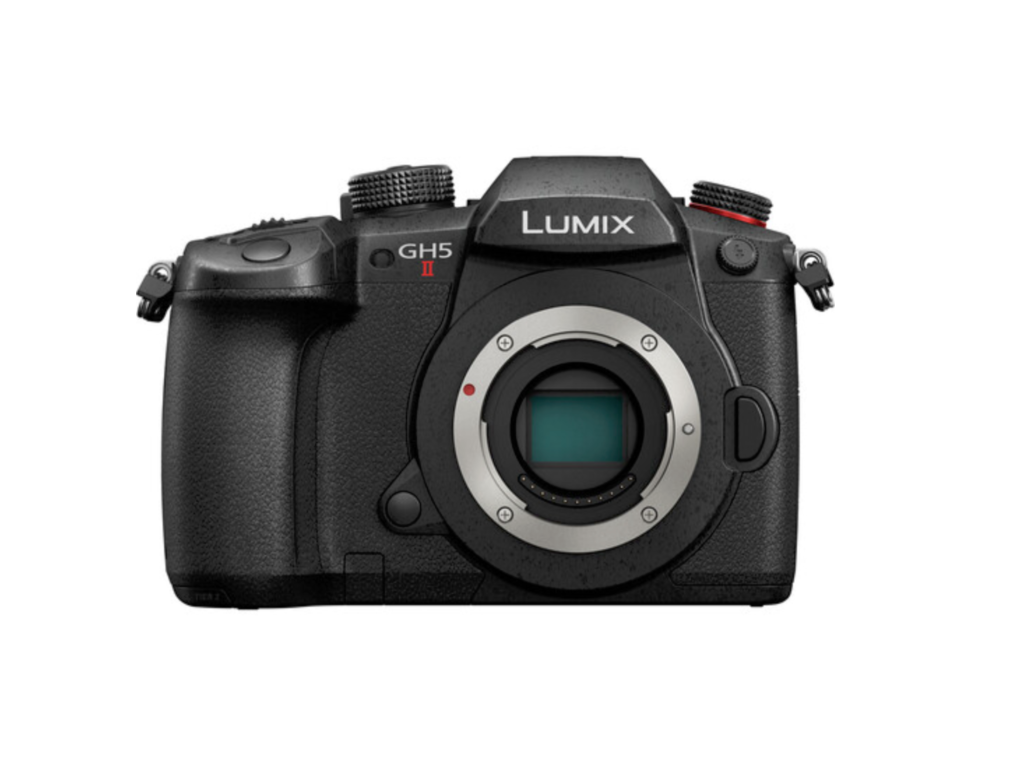 MSRP – $1,698
Best Lens Pairing – Panasonic Lumix G X Vario 12-35mm f/2.8 II ASPH
Key Features:
– 20.3MP Live MOS Sensor with AR Coating
– Pre-Installed V-Log L, No Crop 4K Video
– 0.76x 3.68m-Dot OLED Viewfinder
– 225-Area DFD AF, Advanced Subject Detect
– 6K and 4K PHOTO Modes
– DCI/UHD 4K 60p Video, 10-Bit Internal
– 6.5-Stop 5-Axis Dual I.S. 2
– 3.0″ 1.84m-Dot Free-Angle Touchscreen
– Livestream Video via Wi-Fi
Pros:
– most affordable camera on this list
– powerful in-body IS
– long battery life

Cons:
– micro four thirds sensor
– clunky autofocus
– no native V-Log
The release of the GH5 completely reset the indie filmmaking market in terms of affordability. It's easy to handle, has features well-beyond its price point, and produces a beautiful image.

It can shoot 4k at a respectable 60 fps, and can shoot HD at an impressive 180 fps. The 10-bit 422 color science is on-par with much more expensive cameras, and it even has 6k and 8k "photo modes" that turn the GH5 into a serviceable mirrorless stills camera as well.

The big, big drawback with this camera is the sensor; it's the only one on this list that isn't full-frame, but rather a MFT (micro four thirds) sensor. This affects field-of-view dramatically, turning a 12-35mm lens into the rough equivalent of a 24-70mm (crop factor of 2.0). It also doesn't have the best AF system, and V-Log is not immediately available (users need to pay for a $100 firmware upgrade for this feature).

For those wanting to explore a full-frame camera, Panasonic's S Series is worth checking out.

But this camera's affordability and value earn it a rightful place on this list.
#5 – Canon EOS 5D Mark IV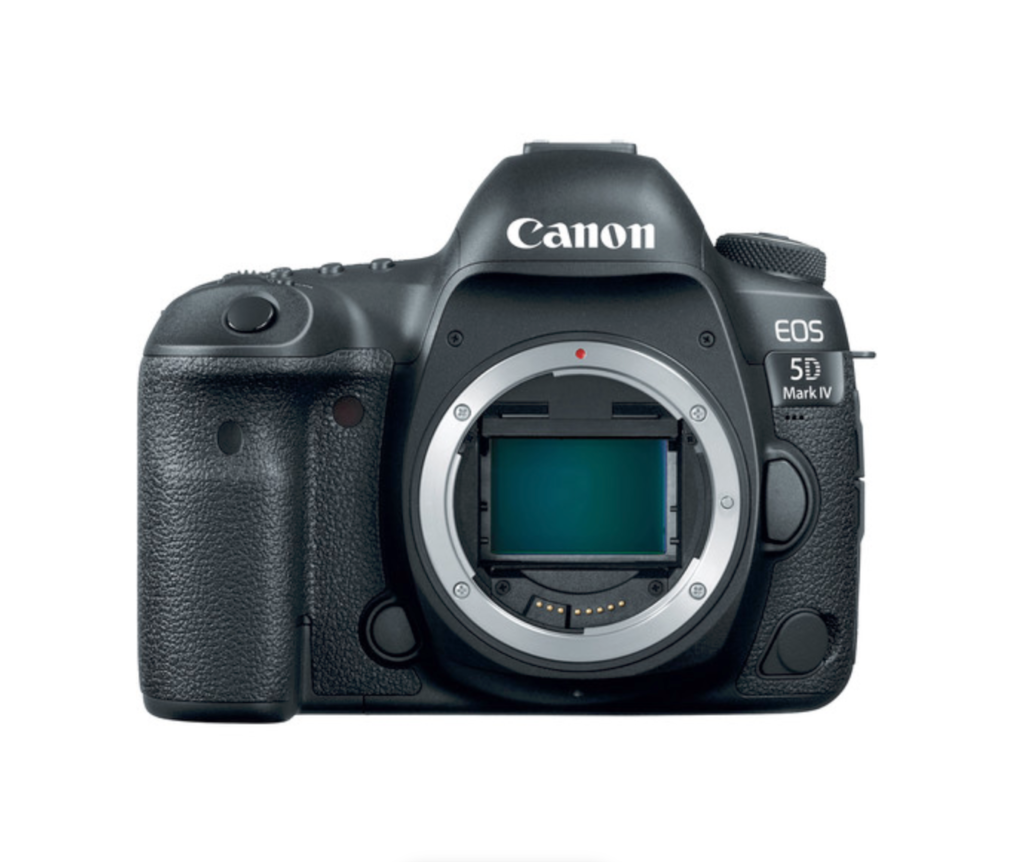 MSRP – $2,699
Best Lens Pairing – Canon EF 24-105mm f/4L IS II USM
Key Features:
– 30.4MP Full-Frame CMOS Sensor
– 3.2″ 1.62m-Dot Touchscreen LCD Monitor
– 61-Point High Density Reticular AF
– Dual Pixel RAW; AF Area Select Button
– 7 fps Shooting; CF & SD Card Slots
– DIGIC 6+ Image Processor
– DCI 4K Video at 30 fps; 8.8MP Still Grab
– Native ISO 32000, Expanded to ISO 102400
– Dual Pixel CMOS AF and Movie Servo AF
Pros:
– high dynamic range
– excellent dual-purpose video and stills camera
– rugged, durable design

Cons:
– 30 minute video recording limit
– no high frame rate at HD or 4k
– 1.74x crop factor at 4k

Canon's best DSLR to date, the 5D Mark IV is a potent, dual-purpose video and still camera. The much-improved dual-pixel AF is a first for the 5D series, the dynamic range is right in line with its competitors, and its rugged design makes for a durable camera to travel with.

The camera's built-in Wifi and GPS features are another 5D first, along with a touchscreen. The ISo range of 100-32,000 is impressive, although the higher ISOs do come with a bit of grain. 30.4 megapixels is more than enough for professional still applications.

Now for the cons: this camera will not shoot high frame rates in 4k. As a matter of fact, even HD is limited to 30fps. There is also a 1.74x crop factor when shooting 4k, which can make framing confusing and difficult if switching between 4k and HD for different projects. The 30 minute recording limit is also a hinderance for interviews and other long takes.

But as far as DSLRs go, this camera makes for a robust video rig, perfect for travel and vlogging.
General Notes
– In general, these types of cameras will need some additional rigging to make them viable, all-day filming setups. In particular, the addition of a cage system (or a battery grip at the very least) will help smooth out your shots.

– You'll notice that every camera on this list has onboard image stabilization as well; this is critical with smaller, lighter DSLRs and mirrorless cameras such as these.
Every DSLR and mirrorless camera on this list will shine in the right environment. Hopefully, you can use these pros and cons to help you determine what will work best for you!
Kevin is the Music Director and Lead Composer at Filmpac.