The 5 Best Video Editing Computers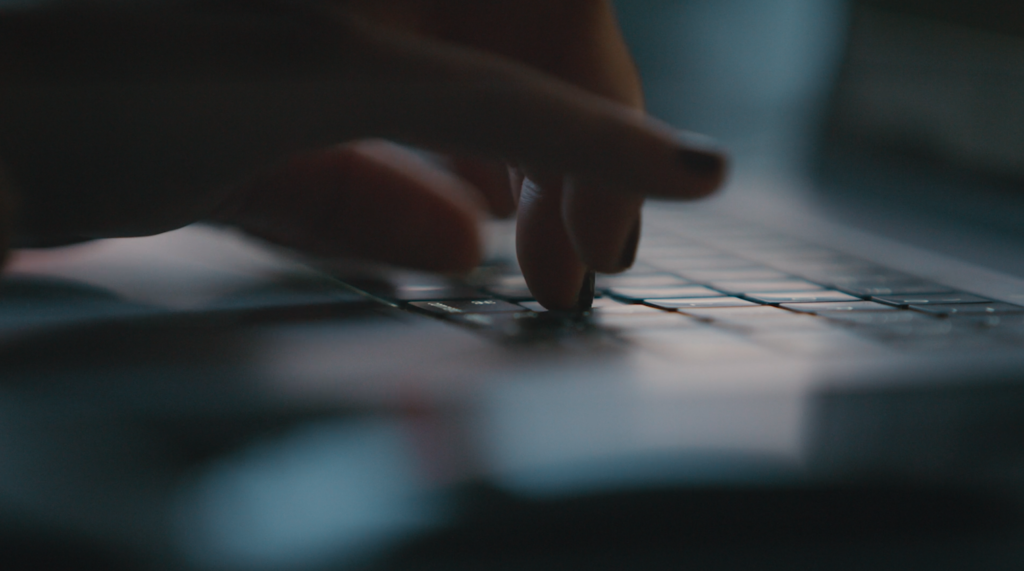 As content creators, the computers we use to edit our videos are just as important as the cameras we use to film. And just like cameras, there are a LOT of computer options on the market, which can be overwhelming for those looking for a new one.

Specs relating to RAM, CPU, GPU, graphics cards, pixels, etc. can be a lot to read through, not to mention choosing between SSDs, HDDs, Apple machines, Windows machines, and other tough choices.

And this isn't just a gaming PC or hobby computer; you need to make sure the computer you select is compatible with video editing software and apps such as Adobe Premiere Pro, After Effects, and DaVinci Resolve.
But we've found a few favorite options over the years, which we've consolidated into this article to hopefully make your next computer purchase go smoothly, and find the best computer for your filmmaking needs.
#1 – Macbook Pro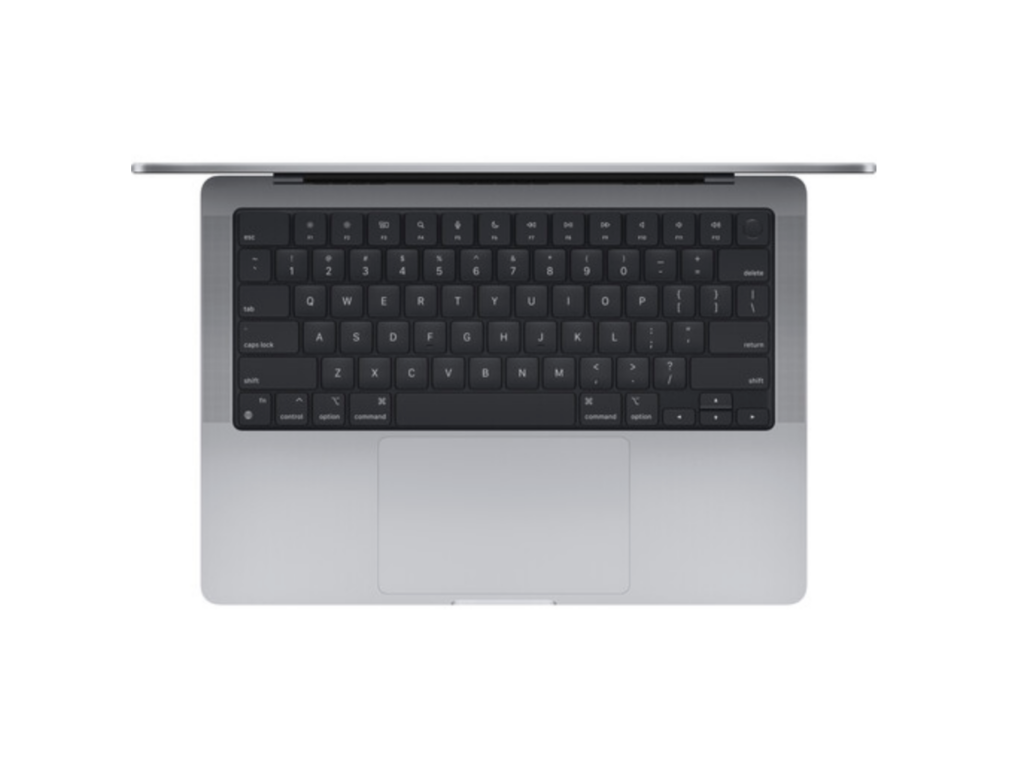 2023 Macbook Pro, M2 Pro Chip, 10‑core CPU and 16‑core GPU: 14.2-inch Liquid Retina XDR Display, 16GB Unified Memory, 512GB SSD Storage – $1,749

A workhorse in the video production industry for over a decade, the Macbook Pro offers the best combination of value, portability, versatility, and power. For those who will need to move their editing workstation from time to time, this is a no-brainer, but it's also powerful enough to be used as a permanent high-end workstation with any video editing software.
Pros:
Portability: The Macbook Pro is highly portable, allowing you to edit videos on the go.
Retina Display: The high-resolution Retina display provides excellent color accuracy and detail for video editing.
Thunderbolt connectivity: Macbook Pro offers Thunderbolt ports for high-speed data transfer and connection to external storage devices, and can be adapted to connect to HDMI.
Efficient hardware: Macbook Pro is equipped with powerful processors, ample RAM, and fast storage options to handle demanding video editing tasks.
Cons:
Limited screen real estate: The smaller screen size of the Macbook Pro may be limiting for complex video editing workflows.
Limited upgradeability: The hardware components of the Macbook Pro are not easily upgradeable, limiting future improvements.
Cost: Macbook Pro models can be expensive compared to other options.
Cooling limitations: Intense video editing sessions may cause the Macbook Pro to heat up and throttle performance.
#2 – iMac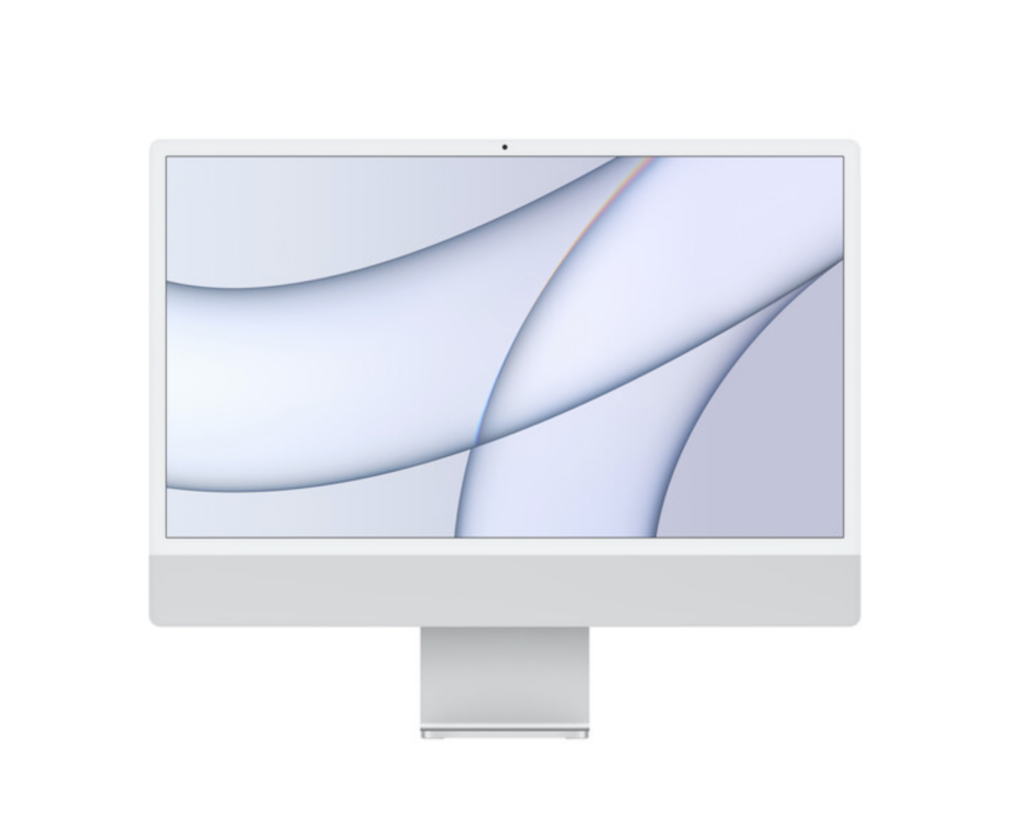 2021 Apple 24″ iMac with M1 Chip, M1 8-Core CPU, 24″ 4480 x 2520 Retina Display, 16GB Unified RAM, 1TB SSD, 8-Core GPU, and 16-Core Neural Engine – $2,099
One of the most popular desktop computers on the planet, the Apple iMac is the pinnacle of the "all-in-one" style computers (those that combine a computer and a screen). Of all computers on this list, iMacs tend to have the longest lifespan, and are surprisingly durable for a desktop. The variety of configurations and upgradeability make this a great choice for those who need their computer to fulfill a video-specific role.
Pros:
Large display: iMac models typically offer large, high-resolution displays that are beneficial for video editing.
Powerful performance: iMac models are available with powerful processors, ample RAM, and dedicated graphics cards for smooth video editing.
Some Upgradeability: Unlike Macbooks, many iMacs allow for some level of upgradeability, such as adding more RAM or storage.
All-in-one design: The iMac's all-in-one design simplifies setup and reduces cable clutter.
Cons:
Limited portability: iMac's desktop form factor restricts its portability compared to laptops.
Cost: iMac models can be expensive, especially when opting for higher-end configurations.
Limited screen adjustment: While iMacs offer a large display, some users may find limited adjustability in terms of tilt and height.
Limited upgradeability: While iMacs can be upgraded, the options are more limited compared to building a custom desktop.
#3 – Mac Studio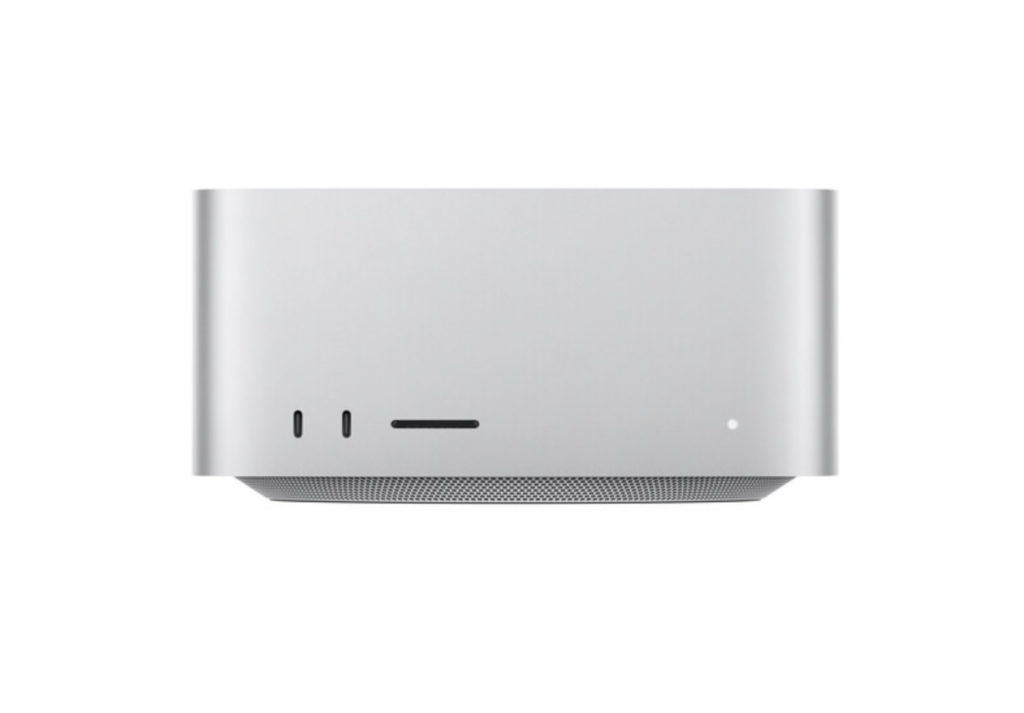 Apple Mac Studio with M2 Ultra with 24 Core CPU, 60-Core GPU, 32-Core Neural Engine, 64GB Unified RAM, and 2TB SSD – $4,399
The most powerful computer on this list, the Mac Studio is built for the big jobs. If you routinely need to edit 8K or raw footage (or both), a machine like this will be essential to your workflow. It's not portable and it's expensive, but you can rest assured that you won't need another computer for a long, long time if you buy one of these.
Pros:
Extremely Powerful: Lots of processing power designed for professionals and offers exceptional performance for video editing tasks.
Customizability: Mac Studio allows for extensive hardware customization, including processors, RAM, storage space, and graphics cards.
Multiple display support: Mac Studio can power multiple high-resolution displays via USB-C, providing a larger canvas for video editing.
Professional-grade graphics: Mac Studio can be configured with powerful graphics cards, allowing for real-time video rendering and effects.
Cons:
Expensive: Mac Studio models are generally more expensive than other options, particularly when fully customized.
Large form factor: The Mac Studio's size and weight make it less portable compared to laptops.
Potential noise: The powerful hardware in Mac Studio can generate considerable fan noise during intense workloads.
No built-in screen: displays will have to be purchased separately.
#4 – Microsoft Surface Studio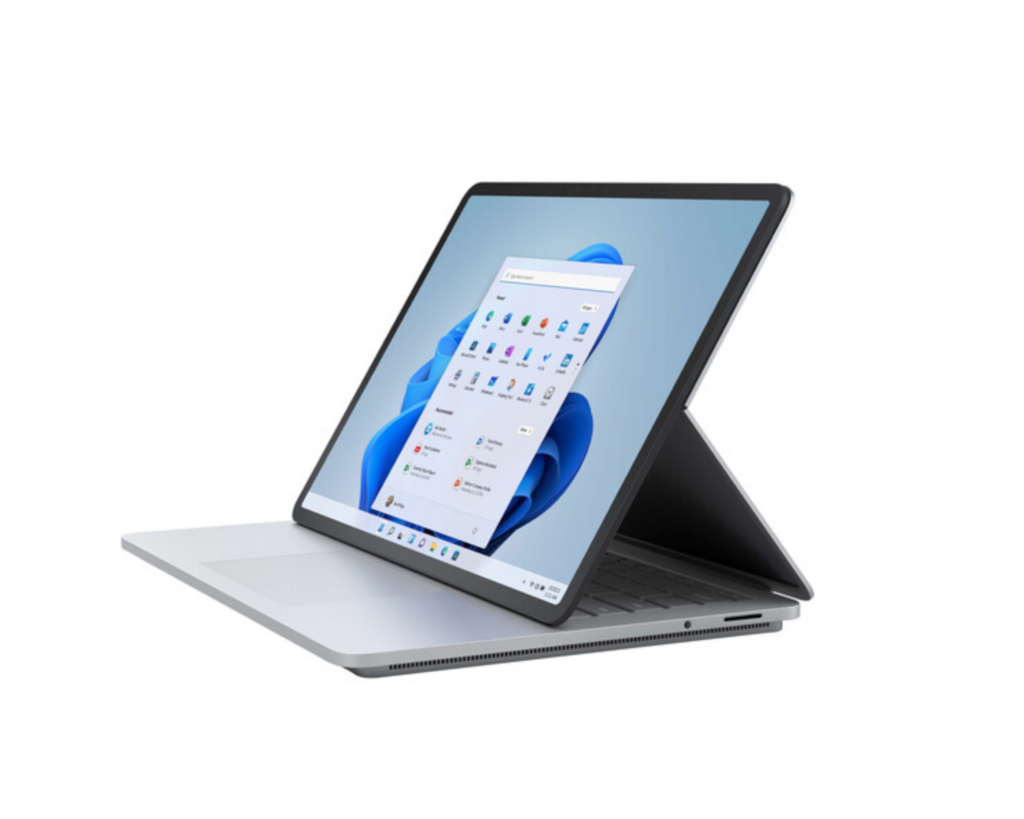 Microsoft Surface Studio 2 – 14.4″ Touchscreen – Intel Core i9 – 16GB Memory – 256GB SSD – $1,235 on Amazon
One of the most popular portable windows workstations, the recent versions of the Microsoft Surface offer plenty of firepower for video editing. And for those who also do design work, the touchscreen and surface pen provide an added bonus. This is simply one of the best laptops out there, and in our opinion, is a better value than the popular Lenovo machines that it is often compared to.
Pros:
Large touch-enabled display: Surface Studio offers a large touch-enabled display, which can be useful for precise editing and interaction.
Versatility: The Surface Studio can function as both a desktop workstation and a drawing tablet, enhancing creative workflows.
Adjustable display: Surface Studio's display can be adjusted to different angles, providing ergonomic flexibility.
Pen input: The included Surface Pen allows for precise drawing directly on the screen.
Cons:
Performance limitations: While Surface Studio models have respectable performance, they may not match the raw power of dedicated desktop workstations.
Upgrade limitations: The hardware of the Surface Studio is not as easily upgradable as traditional desktops.
Price: Surface Studio models can be expensive, especially considering the touchscreen functionality and unique design.
Portability concerns: While the Surface Studio is technically portable, it is not as easy to transport as laptops or other compact desktops.
#5 – Dell Inspiron 7700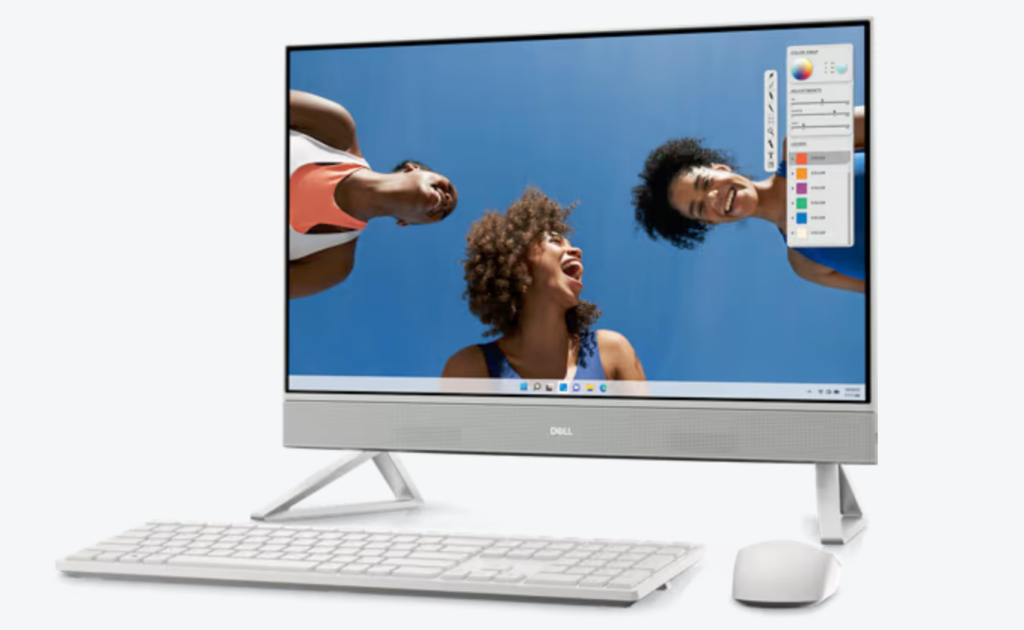 Dell Inspiron 7700 AIO Desktop, 27-inch FHD Infinity Touchscreen All in One – Intel Core i7-1165G7, 12GB 2666MHz DDR4 RAM, 1TB HDD + 256GB Solid State Hard Drive, Iris XE Graphics – $1,149
The Inspiron All-In-One series is this list's hidden gem for video editing. For those on a budget who prefer Windows operating systems, this is a great entry-level video editing PC. It has a similar form-factor as an iMac, but weighs less. Most come standard with an internal solid-state drives. This computer is also popular among gamers.
Pros:
Large display: The Dell Inspiron 7700 offers a large, bright display area.
Customizability: The Inspiron 7700 allows for some hardware customization, such as upgrading RAM and storage. Options include NVidia Geforce RTX cards, NVME drives, and AMD Ryzen and AMD Radeon processors.
Cost-effective: Compared to some other options, the Inspiron 7700 can provide a good balance between performance and price.
Multiple connectivity options: The Inspiron 7700 offers a variety of ports and connectivity options for external devices and peripherals.
Cons:
Limited performance: While the Dell Inspiron 7700 can handle most video editing tasks, it may not offer the same level of performance as high-end workstations.
Build quality: The build quality of the Inspiron 7700 may not be as premium or durable as some other options.
Cooling limitations: Intense video editing sessions may cause the Inspiron 7700 to heat up and potentially throttle performance.
Display quality: While the display is large, it may not offer the same level of RGB color accuracy or detail more high-quality options.
Summary
For video editors, there are obviously many, many more computer options than just the one we've listed here. But this list is a great place to start when you're beginning the search for your next high-performance editing workstation.