Adobe Premiere Pro Vs. DaVinci Resolve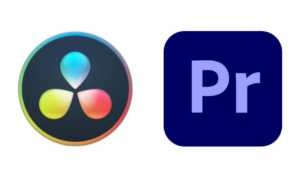 When it comes to professional video editing in the 2020s, two powerful software options stand out: Adobe Premiere Pro and DaVinci Resolve. Both are widely used in the industry at all levels, and both apps offer a plethora of features, making it challenging to choose between them.
In this article, we'll dive into a detailed comparison of Premiere Pro and DaVinci Resolve from a video editing perspective. Whether you're a beginner or a seasoned professional, this analysis will help you make an informed decision on which platform is right for you.
Premiere Pro

For most of the 2010s, Premiere Pro reigned supreme over its main competitors, Final Cut Pro and Avid. This was largely due to its superior footage ingestion system, ease of use, and close integration with After Effects, which was the most popular animation and compositing program at the time (and still arguably is).
The current iteration of Premiere Pro is an extremely smooth, comprehensive, and powerful video editing tool. You can do everything, from editing and grading films, to mixing audio, to creating complex animations and motion design.
In fact, I rarely ever have to leave Premiere when creating hybrid footage/animated assets. I've also done several audio-only projects by just using Premiere's built-in effects and mixing tools (during times when I don't have the time or ability to bring a project into Pro Tools).
Here are some general Pros and Cons of Premiere Pro:

Pros:
User-Friendly Interface: Premiere Pro boasts an intuitive and user-friendly interface using layers and organization bins, making it accessible to beginners and experienced editors alike.
Integration with Adobe Creative Cloud: As part of the Adobe Creative Cloud suite, Premiere Pro seamlessly integrates with other Adobe software such as Photoshop and Adobe After Effects, enabling a smooth workflow.
Extensive Format Support: Premiere Pro supports a vast range of video formats (including Raw formats), making it highly versatile and compatible with various cameras and file types.
Robust Audio Editing: With advanced audio editing tools, Premiere Pro allows precise control over audio tracks, facilitating seamless synchronization and enhancement.
Wide Array of Effects and Transitions: The software offers an extensive library of effects, transitions, audio transcription, and plugins, empowering editors to create a multitude of special effects and styles.
Cons:
Resource-Intensive: Premiere Pro demands significant system resources, especially when working with large or complex projects, which might require high-end hardware for optimal performance.
Subscription-based Model: Adobe operates on a subscription-based model, requiring a monthly or annual fee, which might not be suitable for those on a tight budget. It is currently over $600 per year for a Creative Cloud subscription.
Color Grading tools are not as comprehensive as those in DaVinci Resolve.
DaVinci Resolve

The newer of the two options, Blackmagic Design's DaVinci Resolve has long been considered the gold-standard of color grading, essentially having a monopoly on high-end and feature film work. As the program slowly started evolving to become optimized for editing, more and more filmmakers began to make the jump from Premiere or other more "traditional" programs.
The main difference between DaVinci Resolve and Premiere Pro is the use of Nodes and Fusion Compositions vs traditional layer functionality. In other words, DaVinci Resolve supports a "left-to-right" effects workflow vs the "top-to-bottom" systems that Premiere Pro implements.
While this isn't necessarily more difficult for a brand-new video editor to learn, it does take some getting used to for editors coming from a "layer" system.
Here are some general Pros and Cons of DaVinci Resolve:

Pros:
Powerful Color Correction and Grading: DaVinci Resolve is renowned for its industry-leading color grading and color correction tools, allowing unmatched color control for editors.
Advanced Audio Post-Production: With Fairlight audio tools integrated into DaVinci Resolve, users can perform professional-grade audio post-production and mixing.
Comprehensive Editing Tools: DaVinci Resolve offers a robust set of editing features, including advanced trimming, multicam editing, and timeline customization, providing a complete editing solution.
Free Version Available: Unlike Premiere Pro, DaVinci Resolve offers a free version with a generous set of features, making it an attractive option for budget-conscious users or those starting their editing journey. The Studio version (DaVinci Resolve Studio) can be purchased for a one-time price of $295.
Enhanced Collaboration: DaVinci Resolve's project sharing feature enables seamless collaboration among multiple editors, streamlining the workflow in team-based projects.
Cons:
Steeper Learning Curve for Color Grading: While DaVinci Resolve's color grading capabilities are exceptional, mastering them can be challenging for beginning colorists due to the complex grading panel and terminology.
Limited Motion Graphics and Visual Effects: Compared to Premiere Pro, DaVinci Resolve has a smaller library of pre-built motion graphics templates and presets, requiring additional manual work.
Less Third-Party Plugin Support: Premiere Pro has a broader range of third-party plugins available, whereas DaVinci Resolve's plugin ecosystem is comparatively smaller.
Summary

Choosing between Premiere Pro and DaVinci Resolve ultimately depends on your specific needs, budget, and current familiarity with NLEs.
Although it's more expensive, Premiere Pro's simple UI and seamless integration with other Adobe software and extensive effects library make it an excellent choice for those seeking a comprehensive editing solution.
On the other hand, DaVinci Resolve's powerful color grading capabilities and free version availability cater to users who prioritize more specific usages in their workspace.
Regardless of your choice, both Premiere Pro and DaVinci Resolve are industry-standard software that can handle professional video editing tasks. It's honestly no different than the "Mac vs PC" debate; there is no "right" answer for content creators.
Choose the editing program that aligns with your unique requirements, and embark on your video editing journey with confidence.
Kevin Graham is the Creative Director at Filmpac.